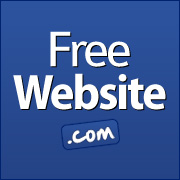 New York, NY (PRWEB) November 10, 2012
FreeWebsite.com is a company that is removing all of the obstacles that individuals and companies encounter when they are trying to start a new website. The company has a free new website service that includes all of the features a website owner would need.
"Our free website service does not stop with helping you to get a professionally designed website up and going in no time," said FreeWebsite.com CEO, Jeff Spicher. "If you want your new website to be the center of a whole community, then we have the email addresses you need to get that done."
The online content development company offers free website development, free hosting, free email accounts and free SEO services for any individuals or companies looking to start a free new website. The website owner would also be given the ability to make any changes to his website that he wants through a free editing portal.
To go along with its free website development service, FreeWebsite.com also offers 99.9 percent uptime and website server security that is state of the art.
About FreeWebsite.com: FreeWebsite.com breaks down barriers to website ownership by providing attractive, easy to maintain websites, complete with content, at a low price. To learn more, visit FreeWebsite.com.