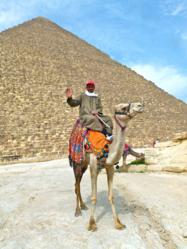 "Egyptians are very pleased to see the tourists who do come," said Robin Weber Pollak, President of JOURNEYS International.
Ann Arbor, Michigan (PRWEB) November 12, 2012
Long one of the most popular and exotic overseas travel destinations for Americans, tourist numbers have fallen dramatically in the past two years following the Arab Spring. Although the social turbulence associated with the fall of the Mubarak regime in February 2011 has subsided and Cairo and other areas are calm, very few tourists have returned.
Recently returned travelers report no lines at popular sites, but exceptionally cordial hosts at uncrowded hotels, restaurants and at monuments.
"Egyptians are very pleased to see the tourists who do come," said Robin Weber Pollak, President of JOURNEYS International, who led a large alumni travel group in Egypt earlier this year. "But where there were thousands of people before the revolution, there are now dozens and you just have the sense that this very special, historic place is just waiting for your personal visit."
While Department of State Cautions and Warnings for Egypt have been lifted for some months, a popular sense that turbulence in other areas of the Middle East such as Syria and Iran have made the whole region unsafe is not accurate. Foreign travelers are well advised to travel with a guide, avoid any demonstrations or unruly crowds and avoid certain areas such as the Sinai, but this has been good advice since well before the Arab Spring.
All JOURNEYS trips are guided and explore ares which have well established local security details. You can travel to Egypt on your own dates as a private trip, or join one of JOURNEYS fixed group departures. The company particularly recommends From the Pharaohs to the Future, an eleven-day trip accompanied by JOURNEYS Client Services Director Florine Herendeen. The February 7-17th, 2013 program includes five nights aboard a deluxe Nile River boat and five nights in a deluxe Cairo hotel. The price is $4,975.
For more adventurous vagabonds seeking a more lengthy, basic, extended exploration, JOURNEYS Mysteries of the Middle East visits Egypt, Israel, and Jordan on a twenty-day trip including ten days in Egypt. The cost is $5,175 and some departure dates are guaranteed. All JOURNEYS trips include accompanying local Egyptologist certified guides.
For more details about travel to Egypt and more than 50 other JOURNEYS destinations worldwide, call 1-800-255-8735 or e-mail: info(at)journeys(dot)travel.
JOURNEYS INTERNATIONAL is the longest standing family-owned global ecotourism company in the US. We offer full-service exotic, guided cross-cultural explorations, nature safaris, treks and eco-tours in remote corners of Asia, Africa, the Americas and the Pacific. Founded by current directors Will and Joan Weber in 1978, JOURNEYS boasts an extraordinary record of client and staff satisfaction and several industry awards.