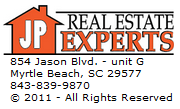 Myrtle Beach, SC (PRWEB) November 09, 2012
One of the top Myrtle Beach real estate companies, JP Real Estate Experts, welcomes their newest listing agent, Ira Sisk. Sisk joined JP Real Estate Experts in August 2011 as an Administrative Assistant. Previously, Sisk received an undergraduate degree from Coastal Carolina University in both Marketing and Management as well as a Masters of Business Administration. His previous experience includes two years of marketing and management.
"We are pleased to have Ira join our growing team of Myrtle Beach real estate experts as a listing agent," says Jerry Pinkas, President of JP Real Estate Experts. "We have witnessed Ira grow tremendously since starting with us in 2011. His strong marketing and management background coupled with an extreme desire to grow in the Myrtle Beach real estate field makes Ira a huge asset to our company. We know Ira will continue to grow and be successful in the real estate field."
In Sisk's new role, he will be working as a listing agent which is a type of agent that only works with sellers. As a listing agent, Sisk will represent sellers of Myrtle Beach real estate properties and be responsible for marketing their property. Sisk will assist the seller in the transaction process and work with potential buyer's agents to close the deal. Sisk will official become a listing agent for JP Real Estate Experts by the end of November after he has completed his training.
"I am excited to take on the new role as a listing agent," says Sisk. "I wanted to try something new and take advantage of the marketing skills and training that JP Real Estate Experts currently offers. Since joining the company, I have learned a lot of valuable marketing and interpersonal skills as well as professionalism. In addition, I have learned how to handle group/team dynamics within a working atmosphere."
About JP Real Estate Experts
JP Real Estate Experts is one of the top teams of Myrtle Beach realtors in the Grand Strand. JP Real Estate Experts was ranked in the top 1% of Myrtle Beach realtors in closed transactions for 2011 and has been named as one of the Top 250 Real Estate Teams in the U.S. by the Wall Street Journal. JP Real Estate Experts specializes in the buying and selling of Myrtle Beach real estate from a variety of neighborhoods including Arrowhead and Forestbrook communities like The Park at Forestbrook and Hunters Ridge. JP Real Estate Experts also specializes in the Myrtle Beach condo market selling condos and villas from communities such as Margate Towers at Riverwalk Condos at Arrowhead.