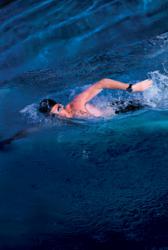 This is the single best GPS watch deal on the market right now in my opinion
Bozeman, MT (PRWEB) November 09, 2012
The Garmin 310XT GPS watch for triathletes used to retail for $399 but its on sale now at the Heart Rate Watch Company for $259.99, a $140 savings.
"The Garmin Forerunner 310XT is the most reliable workhorse watch for ultra athletes and triathlon competitors ever made", says Rusty Squire, President of the Heart Rate Watch Company. He adds, "The fact that you can buy it for $200 less than the new Garmin Forerunner 910XT makes it a screaming deal because the 910XT only added a barometric altimeter and a few swim features."
For the features the Garmin Forerunner 310XT was more reliable and feature rich than any other GPS watch on the market for running, cycling and triathlon, or any other outdoor sport. "This is the single best GPS watch deal on the market right now in my opinion", says Squire. He adds, "We don't recommend it for women with small wrists - this is a big watch."
The Garmin 310XT does heart rate, post exercise maps with elevations, real-time speed, distance, offers pacing does power output and much more. Much like the 7 year old Garmin 305 it is a work horse in the Garmin lineup that people remember for its superior functioning.
"People always ask us why the Timex Ironman Global Trainer is so cheap and want to know if they should consider it as an alternative to the Garmin 310XT", says Squire. He adds, "Our answer is very simple, you get what you pay for - I'll leave it at that."
For users that already own a Garmin chest strap the 310XT can be purchased without a strap for a just $209.