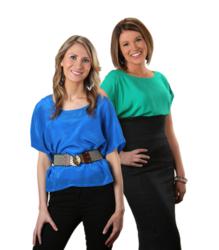 (PRWEB) November 09, 2012
Shopping for a Thanksgiving meal can be costly and time-consuming. Thanksgiving is the kickoff to a season that often creates debt and stress, but frugal living experts Joanie Demer and Heather Wheeler of TheKrazyCouponLady.com have tips to save time, money and anxiety when shopping for this holiday feast.
The bottom line? Don't wait. Last-minute shopping trips come with a narrow window of time, making it difficult to find sales and coupons. Most of the items on a Thanksgiving menu can be found at reduced prices by simply searching for deals in advance.

Take advantage of free promotions. Many grocery stores have a promotion to earn a free turkey with any $50 purchase. These offers often occur for at least two weeks in November. If more than one promotion is found, freeze the additional meat for other upcoming holiday meals.
Watch for sales and stock up. Look for deals on holiday favorites such as canned pumpkin, frozen pie crust, brown sugar, cans of yams, and chicken broth. This also applies to fresh items such as celery, potatoes, onions and apples. When it comes to non-perishable items, remember to purchase enough for other upcoming holiday meals to reduce future shopping lists (and bills).
Buy the whole bird. Don't pay for the convenience of pre-sliced meat. For the best value, buy a whole turkey. Use leftovers for soups and casseroles.
Shop a competitive store that will price match. Don't waste gas and time trying to round up the best deals. Present a competitor's deal at checkout to maximize savings. Some grocers will even beat their competitor's price by 10 percent.
Find a direct source. If possible, check out local butcher shops or farms for great deals on fresh meat. Sometimes their prices can be lower than bargain grocery stores.
Divide and conquer. Family size packages are often cheaper per pound than their small counterparts. Invest in a bigger package and divide it up into multiple storage bags.
Relax. Don't panic if it's not possible to find a great deal on that Thanksgiving turkey. Remember the big picture: Purchasing other items on sale and using coupons helps bring down the overall grocery bill, so paying full price for the turkey isn't a disaster.
By following the tips above shoppers can save 50 percent or more on holiday grocery bills. To find the latest coupons and sales, along with other frugal living tips, visit TheKrazyCouponlady.com.
Heather Wheeler and Joanie Demer, founders of TheKrazyCouponLady.com and authors of Pick Another Checkout Lane, Honey! are money saving, bargain shopping and frugal living experts. With their knowledge and savvy, they've sold over 50,000 books, generated 2 million unique viewers per month at http://www.thekrazycouponlady.com, and garnered 730,000+ Facebook fans and 26,000 Twitter followers.