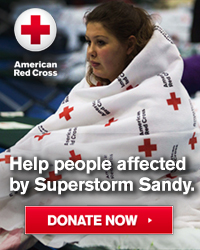 Chicago, IL (PRWEB) November 09, 2012
Infusion e-Business has joined forces with other online based businesses to donate to Superstorm Sandy relief
Hurricane Sandy creates havoc
Born and raised in New Jersey, marketing consultant Peter Risman moved back to The Garden State in October, 2012 following a long term assignment in San Antonio, Texas only to find himself faced with the devastating impacts of Hurricane Sandy. "In all my years in Jersey, I've never seen anything like it," Risman confesses. "The damage is incredible, but it is also random and tangled and going to be really hard to fix. One street looks like a battlefield while the next might be relatively unscathed. But the overall effect on the region is sheer chaos. It's going to be a long time before it all gets sorted out and people's lives are anywhere near back to normal. Both businesses and residents are severely effected."
To help cities and states along the East Coast, organizations such as American Red Cross have stepped in to assist residents and businesses piece their lives and livelihoods back together. A challenge is being issued to encourage e-commerce companies to donate toward the national effort to assist those affected by the storm in the East Coast region.
Online companies meet the challenge
The Hurricane Sandy disaster moved Christopher Sheehy, President of the e-commerce agency Infusion E-Business (St. Charles, IL) and partner in several online companies, to issue a challenge to fellow e-commerce companies to join in the effort to funnel economic support to the Red Cross.
"E-Commerce companies are in a unique position to provide help wherever it is needed," Sheehy says. "As interstate companies we are often in the position to provide assistance simply because our location is not impacted by a specific natural disaster. Also, many e-commerce companies are recognizing the need to function as part of the greater American community, so it's important that companies like ours find ways to give back to society, especially in times of need. This is one of those times."
Coordinated efforts have more positive impact
Christopher Sheehy has already coordinated efforts with the Red Cross to provide other e-commerce companies the information they need to use their e-commerce sites to efficiently solicit donations from customers, as well as promote these efforts to other businesses.
"We'd like to think a little peer pressure in this case is a good thing," Sheehy says. "So we're trying to be leaders by encouraging other e-commerce companies and their customers to funnel a portion of their profits to the Red Cross Relief Fund."
Why American Red Cross?
The American Red Cross shelters, feeds and counsels victims of disasters; supplies nearly half of the nation's blood; teaches lifesaving skills; provides international humanitarian aid; and supports military members and their families. The Red Cross is a charitable organization — not a government agency — and depends on volunteers and the generosity of the American public to perform its mission. For more information, visit http://www.redcross.org or join our blog at http://www.redcrosschat.org.
How e-commerce companies can participate
Participating e-commerce companies will be encouraged to download a fundraising banner by visiting redcross.org/advertising. The banners link to the Red Cross donations page and provide visitors to your website, blog or social media page a choice of areas to support.
As e-commerce companies commit to fundraising for the Red Cross, Infusion E-Business will provide a promotional page with links to participating companies that communicate their participation to Infusion E-Business. Additional promotional information will be distributed to news media and through online channels. Participants will also be given the option to post a page of partnered supporters on their own site, effectively providing a network for needs identified in the future.
"This type of coordinated effort can become a force for considerable good in our country once we establish the system for collaboration and promotion," Sheehy says.
For information on participation, contact program coordinator Christopher Cudworth at 877-697-8993.
Currently Participating e-commerce companies include:
Infusion E-Business http://www.IEBusiness.com. - Donating a matching percentage of participating client's November invoices as part of the E-commerce challenge. 1-877-697-8993
http://www.GoGreenLEDBulbs.com – Donating 10% of online product sales in November and encouraging their customers to donate by displaying the Red Cross donation link on website. - 1-800-495-6370
http://www.AllergyAsthmaTech.com – Donating 5% of online product sales in November and encouraging their customers to donate by displaying the Red Cross donation link on website. - 1-800-621-5545
http://www.BlueSodaPromo.com – Donating 5% of online product sales in November and encouraging their customers to donate by displaying the Red Cross donation link on website. – 1-888-206-3047
http://www.WindyCityNovelties.com – Encouraging their customers to donate by displaying Red Cross donation link on website. – 1-800-442-9722