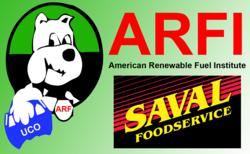 Elkridge, MD (PRWEB) November 12, 2012
Saval Foodservice has partnered with the American Renewable Fuel Institute (ARFI), a locally owned green bio fuel company, to provide an industry-leading used cooking oil recycling program that pays Saval customers a very generous royalty on all used cooking oil collected from their establishments. ARFI was founded by Ben Sheppard, whose main focuses are on creating greener jobs, promoting energy independence, and establishing the means to manage, own, and support companies and objectives believed to change the world for the better.
As part of the Americans for Renewable Fuel Initiatives Program, ARFI focuses on the long term development of sustainable and environmentally responsible fuel and energy production. In addition, the partnership by Saval and ARFI is specifically designed to keep this effort local, with the eventual goal of providing this renewable fuel directly to Howard County for their own use, within 12-24 months. The ultimate goal is to pursue total US energy independence by 2020.