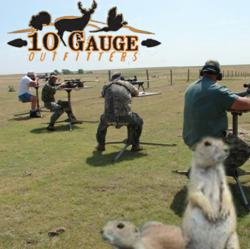 "What a great bow hunting trip. Pheasant scurting the horizon at sunrise, deer everywhere and a trophy I look at every morning in my office. I am hooked and can't wait for this years trip."

-Andrew Reavill
Kinsley, Kansas (PRWEB) November 13, 2012
November marks a special time for bird hunters in Kansas. The cool, crisp autumn air nips at cheeks and ears as hunters ready their dogs. Shotguns have been cleaned, oiled and loaded with the perfect shells. It is time for Kansas pheasant hunting.
10 Gauge Outfitters has been preparing the perfect Kansas pheasant hunt for any hunting party by providing almost every amenity one could wish for. Hunters will be amazed and impressed at the attention to detail that has been expended by Tim Weddington and his crew just to make this Kansas pheasant hunt an unforgettable experience. Hunters are treated to rustic, yet modern, lodging that is fully furnished with flat screen televisions, wireless Internet access, and fresh, clean linens that are changed everyday. Be careful not to get too comfortable; there's hunting to do! After an exciting day, hunters may find themselves with a voracious appetite that can only be suppressed with rich and flavorful country cooking that has been prepared using only premium ingredients and mouth-watering seasonings!
Tim Weddington, the Kansas pheasant hunt guide, has been hard at work getting 10 Gauge Outfitters geared up for pheasant season this year. When hunting season finally opens, be among the first hunters in the state to sent the dogs in and flush out the birds. Field transportation will be provided for hunting parties to and from the sporting areas that are located throughout the area. Kansas pheasant hunting isn't complete without mans-best-friend and hunting dogs are 100% welcome to join the fray. If sportsmen do not have a hunting dog of their own, Tim will provide one. The hunting dogs at 10 Gauge Outfitters are professionally trained, extremely obedient, and are sure to enhance any Kansas pheasant hunt dramatically. If sportsmen do bring a hunting companion, Tim will provide comfortable and clean kennels as part of the package.
Pheasant hunts in Kansas are opening soon! Be sure to call Tim Weddington today to schedule the premium pheasant hunt. Kansas pheasant hunting opens November 12th and runs to January 31st.