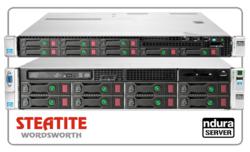 Redditch, United Kingdom (PRWEB UK) 12 November 2012
The ability to source enterprise class server hardware with pre-configured Windows Embedded software has been an issue for the industrial sector for a number of years. The only option was to go with OEM software and fixed hardware configurations. To address this, Steatite Limited has launched a range of new, fully customisable server solutions that are designed to meet the requirements of industrial applications.
The Ndura Server range will be built and delivered to customers with a complete customised Windows Embedded Server OS and optional SQL Server installations. This solution is ideally suited to industries such as Defence, Security and Broadcast, where a need for SQL databases on stable platforms with reliability, performance and longevity of supply are critical.
As a Microsoft Embedded Gold Partner since 2008, their in-house Microsoft certified design team are able to engineer an operating system to enhance the reliability of industrial systems. Combined with the ability to supply legacy Windows desktop and Server operating systems for a minimum of 10 years from launch, a Windows Embedded O/S is the ideal platform for industrial systems.
For further information on Steatite Industrial Server Solutions please visit http://www.wordsworth.co.uk/features/steatite-industrial-server-solutions.html
ABOUT STEATITE
Steatite provides Industrial and Rugged Mobile computing platforms and integrated Battery solutions for customers who demand high performance and reliability in mission critical and harsh operating environments. A market leader since 1938, Steatite's success comes from our passion and commitment to deliver high quality and reliable electronic products and services customised to your precise requirements. We place a particular emphasis on providing solutions that are built to last, and that can perform in some of the world's most demanding operating environments.
Products range from custom battery packs, electronic components, a full range of rugged mobile computers, fixed industrial computer hardware and custom embedded software solutions. With the ability to design and manufacture bespoke units to exact customer requirements, Steatite solutions are built for reliability in extreme conditions.