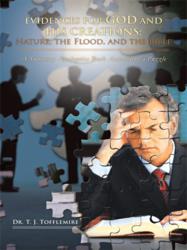 Jacksonville, FL (PRWEB) November 26, 2012
Some unique papers on the web site http://creationapologetics.net are noted below:
1. Bible authenticity 2: This give reasons the Bible is true. Also see the file to the right which notes different views on Bible inerrancy which are very important and key to one's faith.
2. Bible Translation History and Interpretation: This comments on the various translations. Which Bible is the most accurate and up to date?
3. Sire-Universe Next Door: This examines various world views and shows why the Christian view is most reasonable.
4. Barton book, America's Godly Heritage: This documents America's founding on biblical principles from which we have strayed today.
5. Cooper book Genealogy: This documents the biblical genealogies as being true.
An integration of these an much more information is given in my book: Evidences for God and His Creations.
Dr. Tofflemire was and engineer and research scientist for 40 yrs. He wrote over 50 scientific publications in various media and technical journals. He has Masters in Christian Ministry.