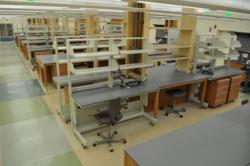 Somerville, New Jersey (PRWEB) November 09, 2012
Dancker, Sellew & Douglas (DS&D), a regional leader in pharmaceutical, education and healthcare laboratory environments, will continue distributing laboratory workstations while the acquisition of Hamilton Scientific by OpenGate Capital, LLC, a private investment and acquisition firm, becomes final. The acquisition of the previously owned business line of Thermo Fisher Scientific Inc., was announced last week by OpenGate Capital. Lab Workstations is a leading designer, manufacturer and installer of laboratory furniture, fume hoods and epoxy resin tops.
DS&D Laboratory Environments, a division of DS&D, has experienced promising growth over the past year with its recent expansion into the Maryland, Washington, D.C. and Northern Virginia region. The most popular product lines include wood, metal and adaptable systems laboratory furniture, fume hoods and Epoxyn tops for educational and healthcare institutions. As the division looks to continue its market growth through partnering with local academic, governmental, pharmaceutical and biotechnology customers, the acquisition of the business line by OpenGate Capital appears to benefit all parties involved. OpenGate looks to apply their operational know-how and maximize the efficiencies of the business line. DS&D is excited to receive further manufacturer support as a regional distributor of the line in some of the most active markets in the United States.
In addition to Laboratory Workstations, DS&D Laboratory Environments will also continue to represent Thermo Fischer Scientific's line of laboratory equipment that includes refrigerators, freezers, centrifuges and many other popular equipment needs for their biotechnology and research clientele. For more information on DS&D products and services please visit http://www.dancker.com or call (908)231-1600.
About Dancker, Sellew & Douglas (DS&D)
DS&D is an interior solutions firm offering a broad range of products including furniture for corporate, healthcare and education applications, architectural walls, lab casework and equipment— as well as valuable services including logistics, laboratory and office planning and in-house installation. With locations in over five states throughout the Northeast and Mid-Atlantic regions, the company's success is based on helping its customers create workplaces that build their business, reflect their brand and support their culture.