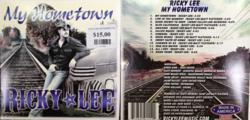 Elma, New York (PRWEB) November 10, 2012
Fans and followers of the Made In America Store are no strangers to Ricky Lee, the Nashville Recording Artist from Altoona, Pennsylvania. Playing multiple shows with the Made In America Store and even creating the first 100% US made CD in the United States. November 14th and 15th are two very big days for the country singer.
November 14th, Ricky Lee will be opening for Country Legends Lonestar. As part of their 20th Anniversary Reunion Tour, Lonestar is traveling the nation and further to start a new chapter in their career, even talks of a new album.
Sponsored by the Made In America Store in Elma, New York, the Harvest Hoedown Concert will start at 7pm in Warsaw, New York.
Ricky Lee recently released his third full length, 100% US manufactured Album title "My Hometown". Since the release, Ricky has picked up some big performances including Jam in the Valley 2012 and headlining the Honor Flight Chicago Concert.
Additionally, Ricky Lee just landed a performance for national TV for the National Football league. Ricky will be performing the National Anthem before the Buffalo Bills and Miami Dolphins Kick off Thursday night.
Grab Ricky Lee's full line of 100% US made CDs by clicking here!
Thanks in part to Ricky Lee's support from the Made in America Store and the National VFW, Ricky's numerous appearances in the Buffalo area have helped him develop a strong local following with his special collection of patriotic songs.
The Made In America Store is the only brick and mortar store that sells 100% made in the United States products from over 350 vendors. Consumers can visit http://www.MadeInAmericaStore.com or call 716-652-4872 to get more information or shop our catalog of over 3,500 items. Both Active Duty Military Personnel and U.S. Military Veterans receive a 10% discount every day. Followers of the "Made In America" movement can keep updated with the Made In America Store through Facebook, Twitter, Google+, Pinterest, FourSquare and even their own blog on Wordpress!