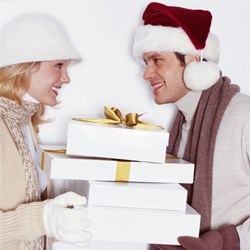 Good quality is important to me and I get it with these beauty sets
Miami, FL (PRWEB) November 10, 2012
The beauty specialists at TheBeautyPlace.com are excited to debut their 2012 Holiday Beauty Gift Set Sale. Top brands in professional hair care and skin care are available at affordable prices for clients with long gift lists. "Good quality is important to me and I get it with these beauty sets. My family and friends will love what I got them, and I won't feel guilty when I see my January statement," stated Nancy.
"Facial Cleansing Systems are the best skin care gifts," stated Rebecca, adding "everyone wants to experience great skin and there are many brands coming forward, but nothing beats a Clarisonic!" At under $100, the Clarisonic Mia skin cleansing system is available in several pastel shades and it's a favorite beauty essential for everyday makeup wearers, acne sufferers, and clients who would like to become motivated in following a skin care program. It incorporates sonic technology to cleanse skin and de-congest pores of dirt, oil, and bacteria. A more budget-friendly alternative to the Clarisonic is the DDF Revolve 400X Micro Polishing System. For under $70, it cleanses skin and can be used to do microdermabrasion treatments at home. "This gift is perfect for Mom. The Clarisonic can be a gift to a little brother who is suffering from acne, but the DDF Revolve is a big deal for mom who may not be able to afford regular visits to an esthetician," mentioned Rebecca.
"All of us get our hair ready this way: wash, condition, and style when we go out and a perfect gift is one that includes all of these," said Rebecca. A popular travel and value hair set includes a shampoo, conditioner, a nourishing hair mask, a hair oil treatment, a hairstyling leave-in cream, and a hair straightening comb in a trendy printed large cosmetics case.
Macadamia Luxe Repair Set $35.95, is a 5 piece hair care set that repairs dry, damaged hair. The beauty specialists stated it is an ideal gift for a niece with an affinity for using her flat iron every day as it helps to repair past damage and provide anti-frizz protection for achieving blowouts and straight hair. Curly hair in need of nourishing will benefit.
The best-selling Supersmile Professional Teeth Whitening System comes in at under $25. It is a month's supply of effective tooth whitening and a budget-friendly choice for tooth whitening at home. It combines a teeth whitening agent called Calprox and a Whitening Accelerator. These ingredients work together to whiten teeth internally and externally. It is safe on sensitive teeth and safe for whitening veneers, caps, dentures and bonds.
TheBeautyPlace.com is a leading online company of "top brands at affordable prices." From skin care to hair care and everything beauty, TheBeautyPlace.com strives to offer clients and prospective clients excellent customer service and fast shipping of beauty products right to their door.
Follow TheBeautyPlace.com:
On Pinterest: pinterest.com/thebeautyplace/
On Twitter: @TheBeautyPlace
On Facebook: Facebook.com/pages/TheBeautyPlacecom/125435188536?ref=ts
TheBeautyPlace.com Blog: blog.thebeautyplace.com
Jennifer Ramirez
TheBeautyPlace.com
877-392-8827