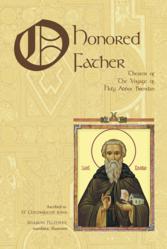 This was once the popular story in Europe for centuries. And you can see why - the adventure, culture, faith and history still captivate us today.
SHREVEPORT, Louisiana (PRWEB) November 13, 2012
Homer's Odyssey, Virgil's Aeneid. These classics are now joined for the first time in 850 years by mediaeval Europe's most beloved story, The Voyage of Holy Abbot Brendan, as Classical epic poetry of massive cultural and historical significance, beloved and passed down through generations to our day.
O Honored Father is a groundbreaking translation of the ancient text that will fascinate historians and lovers of literature around the world, restoring this timeless adventure tale to its original poetic structure. Commentaries reveal the poem as a play composed by one of the most honored of all Irish saints, Columba of Iona, and point out the epic's extensive roots in very early Christian literature, Classical teaching practices, and most astounding, the specific apostolic traditions of Saint John the Evangelist.
This translation by Sharon Pelphrey, Presbytera in the Greek Orthodox Archdiocese of America, draws out the delights of this Catholic Christian Orthodox classic, which has unfailingly inspired families, geographers and artists for more than 1400 years. O Honored Father is a delight for all who love historical adventure, and a must read for all who study the mediaeval period.
For more information, visit http://www.westbowpress.com.
O Honored Father: Theater of the Voyage of Holy Abbot Brendan
By Sharon Pelphrey
ISBN: 978-1-4497-2701-7
Softcover, retail price: $22.99
Hardcover, retail price: $37.99
E-book price: $3.99
About the author
Love for all things classic led Sharon Pelphrey to Latin, ancient and medieval history, and the life of St. Brendan the Navigator. His unique relevance to every major crisis of our century, responsibility towards nature and water rights through the conduct of spiritual authority, has led her to point modern educators and performers once again to his delightful good humor and courage.
Pelphrey's career in Christian and secular education as well as publication has led her to Britain, Hong Kong, and across the United States for over 35 years. She is currently Presbytera and chanter at St. George Greek Orthodox Church, Shreveport, where she serves beside her husband of forty-three years, Father Brendan Pelphrey.
# # #