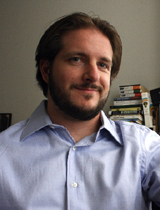 There is a conversation online that many brands are not listening to.
New York, NY (PRWEB) November 12, 2012
The State University of NY (SUNY) at New Paltz will present six accomplished executives/educators this fall who demonstrate and live the truth that hard work, perseverance, commitment to life-long learning and pursuit of your passion will pay multiple dividends. The speakers have committed to share the inspiration and passion that took them to new heights while they also deliver immediate, take home value. Icebreaker Consulting was invited to speak about social sentiment analysis. Aaron Mandelbaum (founder of Icebreaker Consulting) will discuss case studies and introduce tools and best practices for finding and managing your digital conversations.
"There is a conversation online that many brands are not listening to," says Mandelbaum. "Sentiment analysis is a key product we offer, this will be an excellent opportunity to connect with both MBA students and business leaders so we can share just how crucial this analysis is in today's business landscape."
The event is hosted by The Business Support Center (BSC) at SUNY New Paltz. Created in 2011, the BSC connects businesses and regional economic development entities with the knowledge, energy and resources of New Paltz and its faculty and students. Rief Kanan is the Director of the BSC who also organized the speaker series and contacted Mr. Mandelbaum. "Icebreaker Consulting and Aaron in particular bring a solid business background to digital marketing. I know he will be a great addition to the series," says Kanan.
Icebreaker Consulting is a social media and technology education company dedicated to helping businesses successfully compete on the web. Their key services include social media strategy, social sentiment analysis, technology education and SEO. Offering consulting services since 2002, they are privately funded and based in New York.