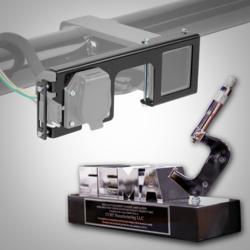 Eau Claire, Wisconsin (PRWEB) November 11, 2012
CURT Manufacturing, a leading manufacturer and marketer of top quality towing products, was awarded first place in the SEMA New Product Showcase Van/Pickup/SUV category for their new Easy Mount Electrical Brackets. This is an impressive award as nearly 2,000 automotive aftermarket products were entered into the showcase by a variety of leading manufacturers. The award recognizes the most revolutionary automotive products being introduced to the market. Criteria for the award are based on superiority of innovation, technical achievement, quality and workmanship, and consumer appeal and marketability.
CURT's Easy Mount Electrical Brackets provide an elegant, simple solution for dangling tow wiring. The brackets mount to a trailer hitch receiver tube with two stainless steel carriage bolts so only one wrench is needed for installation. No drilling is required. Plus, unlike clamp-on brackets, you don't have to wrestle with positioning as the easy mount bracket system is designed to be a perfect fit every time. These solid steel brackets won't break like plastic products and their durable powder coat finish and stainless steel hardware stand up to rust. They are offered for 4 or 5-way flat plugs or in combo models that fit both 4 and 5-way flat and 6 or 7-way round plugs simultaneously. Options include all common trailer hitch receiver tube sizes. They will be available to purchase in individual clamshell packages or in bulk 10-pack counter trays on January 2, 2013.To view a video about this exciting, new product, follow this link: http://youtu.be/eDRNjwsXa_k
The SEMA Show is a trade show produced by the Specialty Equipment Market Association (SEMA) which debuted in 1967. Since then, the show has served as a leading venue for manufacturers and buyers within the automotive specialty equipment industry. Products featured at SEMA include those that enhance the styling, functionality, comfort, convenience and safety of cars and trucks.
About CURT Manufacturing:
CURT is a leading manufacturer and marketer of top quality towing products. The company markets a broad range of trailer hitches, towing systems and related accessories. CURT is 'The First Name in Towing Products' for automobile and truck hitches, as well as RV and commercial towing systems. Products are marketed through retailers, distributors, installers, and e-tailers across the U.S. and Canada. CURT employs hundreds of associates, primarily at its manufacturing and headquarters in Eau Claire, Wisconsin. CURT operates 10 regional warehouses, each carrying over 2,500 items and has been twice named a Wisconsin 'Manufacturer of the Year'.
For additional information on CURT products or to view the Inside CURT plant tour, please visit http://www.curtmfg.com, call toll free at 1-877-CURTMFG (287-8634), or contact CURT at 6208 Industrial Drive, Eau Claire, WI 54701.
Media Contact: Fayne Peck
fpeck(at)curtmfg(dot)com
715-838-4146