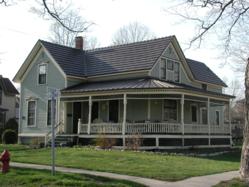 We have great respect for the fine men and women who have served in the United States Armed Forces. This rebate is our gift – a very small way of showing our appreciation – to those families who have served our country so selflessly". -Todd Miller
(PRWEB) November 12, 2012
As a leading distributor and installer of Classic Metal Roofing Systems, American Metal Roofs is pleased to announce a special rebate program to honor United States Veterans.
During November 2012, any homeowner who is currently serving in, or a veteran of, the US Armed Forces who contracts with American Metal Roofs, to have a Classic metal roof installed on their home will receive a $500 Factory Rebate upon completion of the job. Minimum job size is 20 squares.
"We have great appreciation for our country where our hard working team members produce quality products that are beautiful and sustainable. We also have great respect and appreciation for the freedoms and other benefits of our country, and for the fine men and women who have served in the United States Armed Forces in order to protect those freedoms. This rebate is our gift – a very small way of showing our appreciation – to those families who have served our country so selflessly."

Todd Miller, President Classic Metal Roofing Systems
In order to receive the rebate, those eligible must sign a contract with American Metal Roofs during the month of November 2012. When customers complete their warranty registration and send it to the factory upon job completion, they should include proof of their military service and their rebate check will be sent from the factory.
About Classic:
Classic Metal Roofing Systems is a division of Isaiah Industries and the industry leader in residential metal roofing shingles. With over 200,000 square feet of facilities in Ohio, Texas, Iowa, and Kentucky, Classic is a 2nd-generation, privately held company manufacturing "The World's Most Beautiful Metal Roofs."
http://www.classicmetalroofingsystems.com
About American Metal Roofs:
American Metal Roofs with offices in Flint and Charlotte provide residential and commercial metal roofing products and services throughout Michigan. Customers receive stunning, permanent, energy-saving metal roofs, professionally installed on time- Guaranteed!
http://www.AmericanMetalRoofs.com
866-763-9117