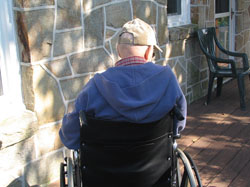 Harris' bold move is commendable and could put nursing homes on notice.
Newport Beach, CA (PRWEB) November 10, 2012
Representatives of California Attorney General Kamala Harris are saying that they will begin aggressively building more criminal cases involving elder abuse, particularly nursing home neglect and abuse cases, statewide. According to a Nov. 3 article in The Sacramento Bee, the Attorney General's office is forming three specialized teams – one in Sacramento and two in Southern California – to pursue criminal charges against nursing home administrators and employees "where deep, systemic problems are suspected."
Harris tells the Bee that elder abuse is a tragic crime because it targets the most vulnerable section of our population – seniors. She tells the newspaper that these types of crimes are pervasive, but often under reported, which is why "we must become more resolute in our protection of them." According to the report, in California and the rest of the country, criminal prosecutions of nursing homes or nursing home employees is rare and allegations of abuse or neglect are usually handled in the civil courts. The report states that elder abuse complaints filed by the California Attorney General dropped from 112 in 2002 to 60 in 2011.
Harris' bold move is commendable and could put nursing homes on notice, said John Bisnar, founder of the Bisnar | Chase personal injury law firm. "However, criminal prosecution of nursing homes can be challenging. Although the burden of proof in civil cases is on the plaintiff, the standard is lower. In criminal cases, the prosecution must prove beyond a reasonable doubt that the nursing home or staff intended to harm the victim."
In addition, the victim or victim's family may not be fully compensated monetarily for their significant losses, Bisnar said. "In my experience, a number of these large corporations that run nursing homes understaff their facilities to bulk up profits. They put money ahead of frail, elderly residents who depend on them. The best way to make them pay is by hitting them where it hurts the most – their pocketbook."
About Bisnar | Chase
The California nursing home abuse lawyers of Bisnar | Chase represent victims of nursing home neglect and abuse, auto accidents, defective products, dangerous roadways, and many other personal injuries. The firm has been featured on a number of popular media outlets including Newsweek, Fox, NBC, and ABC and is known for its passionate pursuit of results for their clients. Since 1978, Bisnar | Chase has recovered millions of dollars for victims of auto accidents, auto defects and dangerously designed and/or maintained roadways.
For more information, please call 800-561-4887 or visit http://www.bestattorney.com for a free consultation.
Source: http://www.sacbee.com/2012/11/03/4959807/california-attorney-generals-office.html