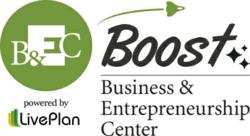 Complete contest rules and judging criteria are found at bec.liveplan.com
Eugene, Oregon (PRWEB) November 09, 2012
What: The first-ever California Business Plan Competition is called the "BEC Boost". It's a $15,000 Business Plan Competition created by Mike Roessler, the statewide director for the California Business & Entrepreneurship Center (BEC) program. Mr. Roessler strongly believes that the way to build a sustainable future economy in California is to invest in the power of entrepreneurship by encouraging self employment opportunities, particularly among young people between 14 and 27 years old.
Mr. Roessler is hosting this statewide competition with Palo Alto Software, the world's leader in business planning software. Submissions are made using Palo Alto Software's business planning tool LivePlan. LivePlan is hosted in the cloud, so users can access their business plan from anywhere with an internet connection. LivePlan also helps users implement their plan and track their plan's results by setting and tracking milestones, as well as integrating their plan's financial forecasts with their actual data from QuickBooks; hence, keeping the business plan alive and helping business owners become more successful.
Who: Any legal California resident who is at least 14 years old as of May 1, 2013 is eligible to enter the competition. There are three competing age tracks:

14 to 17 years old (compete to win $5,000)
18 - 27 years old (compete to win $5,000)
28 years and older (compete to win $5,000)
The plan must be an original idea for either (1) a new business, (2) a business in operation for less than two years, or (3) a substantial improvement to an existing business. The BEC Boost participant must hold majority ownership of the business they are submitting a plan on behalf of. You do not have to have registered your business as a legal entity to enter; however you must demonstrate an intention to turn your business plan into an actual for-profit company in 2013. Complete contest rules and judging criteria are found on the BEC Boost website: bec.liveplan.com
When: The competition has officially launched, and individuals have until 12:00 p.m. May 1, 2013 to write and submit their LivePlan Business Plan for a chance to win $5,000 to help them start or grow a California-based business.
Winners will be announced via a live webinar on May 22, 2013.
How: It's only $70 to enter the BEC Boost, and all participants receive:
Official registration into the Business Plan Competition and a chance to win $5,000.
6 months of LivePlan - the #1 online business planning tool - to write their business plan. (LivePlan produces an investor-ready and lender-ready business plan.)
Access to free educational webinars. The first webinar titled "How to Write a Winning Business Plan" is November 14th from 1-2 p.m. This is open to anyone. Register here.
Submitted business plans will be reviewed by an expert panel, including:
Tim Berry: business planning expert and founder/chairman of Palo Alto Software.
Barbara Vohryzek: appointed Deputy Director for Small Business and the Small Business Advocate at the California Governor's Office of Business and Economic Development.
R Paul Singh: founder of DocSync.net, a mobile document management company. He has been a Founder, CEO and Advisor to many startups in the mobile, social and cloud networking.
Jeff Draa: 25-year veteran of the technology equipment and software industries. He has held senior executive positions with technology leaders such as Lam Research, ASM Lithography and KLA-Tencor.
Visit bec.liveplan.com for more details about the competition and to register.
This competition is sponsored by the Business & Entrepreneurship Center (BEC) Program and Palo Alto Software.
About the Business & Entrepreneurship Center Program:
The Business & Entrepreneurship Center (BEC) Program, an initiative of the Economic and Workforce Development Program through the California Community Colleges, is a network of Community College professionals working in strategic partnership with businesses, industry and community organizations to identify and meet California's economic development needs in the areas of business improvements and entrepreneurship training. There are 9 offices throughout the state of California. BuildCalifornia.org
About Palo Alto Software:
Palo Alto Software, Inc., makers of the #1 selling business planning software in the world, develops and publishes tools, products and content to help small and midsized businesses plan and manage their venture. LivePlan, the company's flagship product offers a cloud-based, access-anywhere solution for both PC and Mac users. Palo Alto Software has been the market leader in its category for over fifteen years. Founded in 1988 by business planning expert Tim Berry, the company is a privately-owned corporation based in Eugene, Oregon.