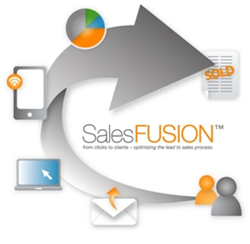 Demand base will add a great deal of value to our existing website tracking solution and we are excited for the partnership.
Atlanta, GA (PRWEB) November 12, 2012
SalesFUSION™ is the maker of SalesFUSION 360, an integrated sales and marketing demand generation platform. This week, SalesFUSION announced it has entered into a strategic partnership with Demandbase. Through the partnership, Demandbase will enrich SalesFUSION's website tracking tool with real-time business information about SalesFusion client Website visitors--including company name, industry, size, location, revenue and nearly 40 other attributes—via Demandbase's Real-Time Identification Service.
SalesFUSION is a leading provider of enterprise marketing automation software built for b2b marketers and offers a suite of solutions including nurture-based marketing, website visitor tracking and social media marketing. The partnership with DemandBase will allow SalesFUSION to improve its existing website visitor tracking tool known as WebForensics by appending account-based web visitor data from DemandBase in cases where SalesFUSION identifies the account by IP address. Said Kevin Miller, CMO of SalesFUSION; "We are excited about this partnership with Demandbase. We evaluated a number of different technology providers this year for the purpose of offering an enhanced version of our popular WebForensics product. Demandbase fit the bill through and through and their focus on the account-based approach matches perfectly with our b2b clients."
The partnership officially begins on 11/1/2012 at which time SalesFUSION will begin to offer its clients an enhanced version of WebForensics that includes the account-based intelligence provided by Demandbase. This new, paid service, will provide for an additional revenue stream for both companies and lay the groundwork for expanding the partnership into new areas.
About SalesFUSION
SalesFUSION 360 provides software that accelerates revenue by connecting sales and marketing with prospects at the moment they are ready to buy. This is made possible through the SalesFusion 360™ suite, which complements CRM systems by adding an on-demand enterprise ead management service. SalesFUSION 360 increases lead quantity, lead quality, and revenue conversion rates by integrating and automating the lead management process. Visit our site: http://www.salesfusion.com.
About Demandbase
Demandbase is the first real-time targeting and personalization platform for B2B, transforming the effectiveness of marketing programs and marketing's ability to impact revenue. While personalization tools have long existed for B2C, until now, none were geared specifically to enable B2B marketers to make online interactions more effective, delivering the right message at the right time. Without the use of cookies, Demandbase's Real-time Identification service bridges the gap between known and anonymous web visitors by identifying and segmenting the companies visiting a website, and providing detailed, targetable business attributes in real-time. Demandbase integrates with other sales and marketing technologies to deliver unique intelligence about web visitors, and better attract, convert and retain the right customers. Enterprise leaders and high-growth companies alike use Demandbase to drive better marketing performance. For more information, visit http://www.demandbase.com.