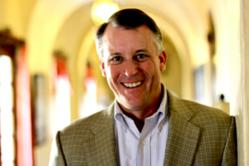 "We're pleased that David has joined the Oklahoma Wesleyan leadership team," said Dr. Piper.
Bartlesville, Oklahoma (PRWEB) November 11, 2012
Mr. Preston, 54, is a native of Bartlesville and has been a resident of Kansas City, Missouri since graduating from the University of Oklahoma College of Law in 1984. He practiced corporate law in Kansas City until retiring from practice in 2009. Mr. Preston's parents, Thomas Preston and the late Ann D. Preston, were active in local community affairs for the many years they lived in Bartlesville.
"My family always took a keen interest in building and supporting Bartlesville as best they could," said Mr. Preston. "Working with the Oklahoma Wesleyan University Foundation will give me the opportunity to help enhance the profile and reputation of the college, which will in turn benefit the entire Bartlesville community. Under Dr. Everett Piper's leadership, Oklahoma Wesleyan has become a dynamic institution that is becoming more prominent nationally year after year."
"We're pleased that David has joined the Oklahoma Wesleyan leadership team," said Dr. Piper. "His wide range of experience and the contacts he has made in 25 years of practicing law will make him an invaluable resource as we seek to build the Foundation's resources and to grow the University and its programs."
Mr. Preston and his wife Shelley have two children, Sarah Preston Radasky, 27, who lives in Kansas City with her husband Marc, and William F. Preston, 24, who lives in New York City.
Oklahoma Wesleyan University is a recognized educational leader in the state of Oklahoma and beyond. OKWU has received national recognition from U.S. News and World Report, Forbes.com, and CBSNews MoneyWatch both for its excellent academic reputation as well as its missional integrity. The university is a four-year, Christian university of the liberal arts and sciences that is accredited by the North Central Association. OKWU also receives professional accreditation from the National Council for Accreditation of Teacher Education (NCATE), the Commission on Collegiate Nursing Education (CCNE), and the International Assembly of Collegiate Business Education (IACBE). It is a member of the Council for Christian Colleges and Universities (CCCU) and boasts national championship athletic programs in men's and women's basketball as well as baseball. Perhaps most important, OKWU is known for its bold and clear mission which emphasizes the Primacy of Jesus Christ, the Priority of Scripture, the Pursuit of Truth and the Practice of Wisdom.