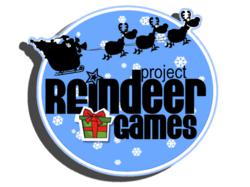 Project Reindeer Games is about creating a few more smiles in the world, that's all
Oaklyn, NJ (PRWEB) November 13, 2012
Project Reindeer Games (ProjectReindeerGames.org) a non profit software developer has officially opened its doors and has begun offering its first two exclusive PC game titles free to families everywhere via it's website. Project Reindeer Games (PRG) however isn't quite done there, it also instructs and guides would be Santas in how to easily turn these free games into high quality enjoyable gifts, perfect for stocking stuffing or for under the tree.
PRG is able to offer this unique gift giving opportunity since not only do they allow everyone to freely download their exclusive games, but they also offer free professional quality CD cover and back art, along with free color instructions and CD label art with each game.
Anyone with a computer and printer can easily and quickly download and create professional looking games in their own home in just minutes for free.
Everything needed is likely laying around many family's home already. Find an old CD case, some blank paper and a blank CD and you are all set to create a brand new PC Game for the holiday season .
"It's tough out there for a lot of people, and this is just my little way of trying to give back and help out", states TC Weidner (aka Big Daddy), the developer behind Project Reindeer Games. "Sometimes it has to be about more than just money, Project Reindeer Games is about creating a few more smiles in the world, that's all".
Project Reindeer Games are 100% complete, and 100% free. Downloading requires no registration and all games are safe windows based family friendly PC titles which do not require the internet to run.
The first two games offered and available beginning today are " Who's Afraid of the Dark?" an action packed arcade adventure for the younger crowd, and "Dr. Fink's Rush Delivery" a madcap brainy action game for the casual gaming brainiac.
"A lot of time and love have gone into these titles, we like to think its shows", states TC Weidner.
PRG is on track to offer one new title each upcoming Holiday season. For further information please visit ProjectReindeerGames.org.
Contact:
TC Weidner,, Founder 856.858.3353
BigDaddy(at)ProjectReindeerGames.org