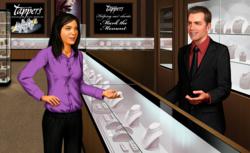 "I am excited to use Logi-Serve's innovative technology continue to build on Tapper's culture of world-class sales and service excellence."
— Mark Tapper,
President of Tapper's
Farmington Hills, MI (PRWEB) November 15, 2012
About the Client
Michigan's most trusted jeweler since 1977, Tapper's offers an unparalleled level of customer service and an outstanding selection of the highest quality diamonds, fine designer jewelry and luxury timepieces. Tapper's has been helping clients Mark the Moment of special occasions and lifecycle events for over 30 years. Tapper's provides a luxury shopping experience with unparalleled customer service to all guests at all stores.
"We pride ourselves in providing an unmatched, tailored luxury shopping experience to every customer. Logi-Serve is a best-in-class, nationally recognized assessment tool to scientifically predict a prospect's service and sales excellence — it just fits," commented Mark Tapper, President of Tapper's. "I am excited to use Logi-Serve's innovative technology continue to build on Tapper's culture of world-class sales and service excellence."
Study Details
Tapper's sales associates provide high-touch service at all their stores throughout the Midwest. Sales and service performance data were provided to the Logi-Serve science team for a group of Sales Associate incumbents who also completed the Logi-Serve assessment. From these data, an average sales per year and sales per hour figure was calculated for each employee, standardizing within-stores to address differences in the selling potential associated with specific store locations.
To understand the potential value of Logi-Serve to predict candidate potential for demonstrating high levels of service performance, supervisors provided service performance ratings for all Sales Associates along multiple dimensions (using the standardized Logi-Serve performance evaluation wizard).
Study Findings

Median annual sales were up by hundreds of thousands of dollars for Gold medalists versus Bronze and/or Silver medalists
Median sales per hour were also significantly higher for Gold medalists versus Bronze and/or Silver medalists.
Candidates with higher overall Logi-Serve scores were more likely to demonstrate a higher degree of service excellence along a variety of service performance rating dimensions, than those with lower overall Logi-Serve scores.
Candidates with higher scores on Logi-Serve composite indicators of important complex characteristics such as engagement potential and trainability, etc. had high probabilities of being stronger service performers than candidates with lower scores on these custom composites.
These findings highlight the use of Logi-Serve when trying to identify Sales Associates who have the potential to be excellent sales and service providers. Candidates with higher Logi-Serve scores have higher probabilities of being top sales and service providers within the organization.
About Logi-Serve
Logi-Serve is an award winning assessment and development technology recognized nationally as a Top 10 "Awesome New Technology" by the 2011 National HR Technology Conference leadership and as recipient of the 2012 Publisher's Choice Product of the Year Award by Customer Care News magazine. Logi-Serve was recently selected as the exclusive North American assessment alliance partner for Preferred Hotel Group®. The Logi-Serve assessment system helps prevent costly hiring mistakes, improves employee productivity, reduces turnover and enhances customer satisfaction and business capabilities like never before.
For more information view the Logi-Serve website at http://www.logi-serve.com, email sales(at)logi-serve(dot)com or call 1 (800) 698-0403.