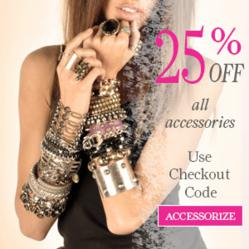 (PRWEB) November 12, 2012
Bohme Boutique is offering a 25% off discount on all Bohme accessories available online for a limited time only.
Bohme wants to help fashionistas everywhere to make complete and trendy outfits by making it easier to find stylish and affordable accessories.
From jewelry to purses Bohme has the right accessories for any outfit and any occasion. Bohme carries various handbags and purses as well as infinity, fringe, and other trendy scarves. Bohme accessories also include: necklaces, belts, watches, hats, beanies and earrings.
Other special discounts include: a Facebook drawing contest in which the winner will receive a 50% discount on an entire online order, and a $10 discount off all jackets and blazers.
Bohme Boutique was founded by Fernanda and Vivian Bohme, two sisters from Brazil. The boutique started as a small business and has grown into a full-fledged retail store that has expanded and opened Bohme Boutiques all over the United States.
Learn more about Bohme's special discounts and boutique clothing at Bohme Boutique.