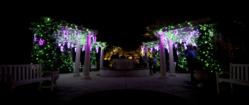 Airlie Gardens fills with travelers palming hot chocolates, listening to holiday carolers and gazing at a myriad of twinkling lights
Wilmington, NC (PRWEB) November 13, 2012
Voted one of the Southeast Tourism Society's Top 20 Events, North Carolina's Enchanted Airlie prepares to draw a global audience when it kicks off on November 23. The renowned holiday celebration continues to gain widespread popularity by melding a taste of Southern charm with winter wonderland mystique.
On any given weekend night from Thanksgiving to Christmas, Airlie Gardens fills with travelers palming hot chocolates, listening to holiday carolers and gazing at a myriad of twinkling lights. So much so, the Enchanted Airlie tradition recently captured the spotlight of ABC World News.
Among some of the more anticipated features slated to appear at the 2012 event, several coordinated light and music displays, hundreds of holiday flowers and a massive exhibit featuring more than 250,000 LEGOs. In previous years, the plastic brick extravaganza drew record-setting crowds of more than 28,000 onlookers – the largest group to see a single LEGO display nationwide.
Enchanted Airlie runs November 23 to December 22, Thursday through Saturday. There are two time slots per evening: 5 – 7 p.m. and 7 – 9 p.m. Tickets for Enchanted Airlie, which must be purchased in advance, are now available by visiting airliegardens.org. Individual tickets are $5 for adults and $4 for children ages 4 –12.
Each car must pre-purchase one parking pass ($5) when using the individual tickets option. An economical green option is the carload ticket for $22, which will cover as many people as will safely fit into an automobile; no individual tickets or parking passes are required for this option. No buses or large, multi-passenger vans, please.
What: Enchanted Airlie
When: November 23 - December 22, Thursday - Saturday from 5 – 7 p.m. and 7 – 9 p.m.
Where: Airlie Gardens, 300 Airlie Road in Wilmington, NC
Who: Open to the general public
###
Airlie Gardens is a 67-acre public garden located in Wilmington, North Carolina. Established in 1901, the garden is a cultural and ecological component of New Hanover County and North Carolina history that features formal gardens, wildlife, historic structures, walking trails, sculptures, views of Bradley Creek, 10-acres of freshwater lakes, the celebrated 466-year-old Airlie Oak, more than 100,000 azaleas and countless camellia cultivars. The garden is made possible with the generosity of public grant funds, the commitment of the New Hanover County Commissioners, the cooperation of previous owners the Corbett Family and the support of local residents. For information about Airlie Gardens, visit airliegardens.org.