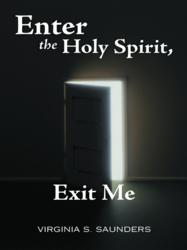 NELLYSFORD, Va. (PRWEB) November 12, 2012
Virginia Saunders was a successful journalist who travelled the world and reported on the Pacific Asian tourism industry from 1978 to 1998. However, once her husband died, a grieving Saunders found that she could not write a single word of value. That changed on January 5, 2012 when Saunders says the Holy Spirit prompted her and gave her the gift to write again. In the five weeks that followed, Saunders followed the guidance of the Holy Spirit and wrote her first book, "Enter the Holy Spirit, Exit Me."
The circumstances surrounding the book are truly a miracle, Saunders says.
"As a writer, I understood the value of words and their ability to heal and change lives," Saunders says. "The writers block that had been plaguing me for 12 years was truly devastating. Everything changed when the Holy Spirit lifted my block and I was free to spread His Word."
The book details the gifts that the Holy Spirit gave Saunders, such as praying in tongues and healing hands. Saunders also helps others longing for a closer connection to the Holy Spirit by detailing how they can embrace His light and move forward to an intimate relationship with God.
"I want people to realize that the Holy Spirit is a personal, physical, emotional and spiritual being who helps us to pray and build a closer relationship with God," Saunders says. "I want my book to be a testimony of God's love for us, something that opens the door for anyone."
For more information, visit http://virginiasaunders.authorsxpress.com/
"Enter the Holy Spirit, Exit Me"
By Virginia Saunders
ISBN: 978-1-44975-395-5
Available at Amazon, Barnes and Noble and WestBow Press
Available in e-book, softcover and hardcover
About the author
Virginia Saunders reported on the growth of the tourism industries in Indonesia and The Philippines from 1972 to 1998. She was the senior correspondent for Indonesia for Travel Trade Gazette Asia, Business Travel News Asia and Pacific Asia Travel News for 12 years. In 1998, Virginia retired in the United States. Today, Virginia promotes and conducts wine tasting tours in Nelson County, Virginia, through her company, Virginia Blue Ridge Wine Tours. When she isn't writing or working, Virginia enjoys landscaping, photography and reading and blogging about the Bible and the Lord.