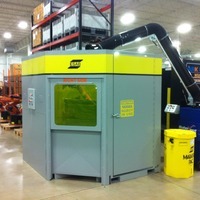 Florence, SC (PRWEB) November 09, 2012
ESAB Welding & Cutting Products will demonstrate new welding automation products and processes in Booths N-3922 and N-4122 at Fabtech 2012 in Las Vegas.
The latest robotic welding solutions from ESAB include the Aristo RT Robotic Torch series, robotic welding cells through a partnership with KUKA Robotics, and the new ESAB Swift Arc Angle Loader (AL) Series of robotic systems.
The new Aristo RT Robotic Torches offer world-class performance in single arc or tandem applications. The large, brass outer tube and collision-resistant torch design mean no readjustment of the torch neck, which stabilizes the tool center point (TCP) while improving productivity and reducing downtime. These versatile robotic torches are available for Standard, Helix or Infiniturn robots making the torches suitable for all types of robots.
ESAB also teams up with KUKA to bring to market the newest in robotic welding cells. This partnership delivers high performance solutions with more standardized features for steel, stainless steel, aluminum or other non-ferrous GMAW applications. These robotic packages are easy to use and easily programmed for enhanced productivity and quality.
The new Swift Arc AL, angle loader robot system is an economic configuration for a complete work cell – ideal for job shops introducing robotics to their applications. The Swift Arc AL features a simple cell design with easy-open manual doors for minimum maintenance and two independent working locations for maximum productivity. Tooling can be changed on one side while welding takes place on the other side. At 36 ft. x 42 ft., the large capacity flat table side is approximately twice the size of a 60 in. rotating turntable. The cell features the KUKA KR-5 Arc Robot with PC based KRC-2 controller with 11-lb payload and 55.5 in. reach.
The complete robotic system is delivered ready-to-weld. Just hook up the input power, gas and wire to start welding. The state-of-the-art welding power source and wire feeder are offered as standard components, designed to minimize spatter and burn-through on thin materials. TruArc Voltage is another standard feature offered to provide truly accurate voltage information for critical welding. Other standard features include harmonized motion between the robot and external axes, open architecture Windows HMI, easy teaching with the PC based controller, constant wrist orientation function, electronic mastering for quick calibration, and much more.
ESAB Welding & Cutting Products is one of the world's largest and most experienced manufacturers of welding and cutting equipment and welding filler metals. Recognized as the technological leader in the industry, ESAB is committed to providing cost effective solutions for its customers. For more information, visit http://www.esabna.com or call 1-800-ESAB-123.