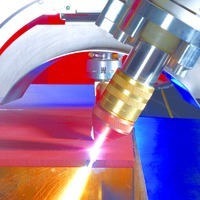 Florence, SC (PRWEB) November 09, 2012
ESAB Cutting Systems is exhibiting a wide range of innovative products at Fabtech 2012 in Las Vegas, including software features, plasma beveling system, a new drill station and improved plasma cutting capabilities. ESAB Cutting Systems provides a complete package of products and processes that lead the industry.
The Avenger X large gantry CNC cutting system will be the centerpiece of ESAB Cutting Systems display. The rugged, accurate Avenger X is the flagship machine in ESAB's wide range of automated cutting machines, and is available with straight cutting tools, bevel cutting tools, and plate marking systems. The Avenger X will be plasma bevel cutting on ESAB's exclusive Continuous Cleaning Downdraft table.
The Avenger X gantry's design delivers the speed, accuracy, and flexibility demanded by fabricators, ship builders, and equipment manufacturers around the world. Its dual-precision linear ways and high-stiffness fabricated beam structure make it ideal for precision cutting, marking, and beveling. Its high-speed AC drives and oversized gearboxes make it fast, precise, and durable for added productivity.
Building on the success of the Avenger X, ESAB now adds a standard drill station with the capacity to drill up to 20mm holes in materials up to 2" thick. The heavy-duty drill station features programmed feed rate, fully automatic tool cycle, and automatic tool mist lubrication. Supplied with drilling parameters for a wide range of hole sizes, the system makes it easy to produce plasma or oxyfuel cut parts with precision drilled holes in a single operation.
The Avenger X is ideally suited for use with ESAB's m3 plasma system, providing the industry's widest range of capabilities in a single plasma system. The fully integrated m3 system is completely automated by the Vision™ T5 CNC, for quick setup and easy operation.
The Vision T5 was designed specifically for plate cutting machines. With the Vision T5, all cutting and marking process tools are controlled directly on the easy-to-use touch screen. Operation is easier and faster since the needed controls are always at the user's fingertips. External boxes are eliminated, and all process setup is fully automated through the built-in process database, which dramatically boosts productivity.
Working in tandem with the Vision T5 touch-screen based controller is ESAB's new Smart Voltage Height Control (SVHC). SVHC automatically compensates for electrode wear by keeping the nozzle the same distance from the plate – this allows the electrode to be fully used before being changed. This consistent electrode-to-plate distance maintains cut quality and reduces torch crashes. Operating cost is reduced by eliminating premature electrode changes.
ESAB further upgrades mechanized cutting processes with SmartCycle Technology. SmartCycle integrates the Vision T5 CNC, gantry, m3 Plasma system, Smart Voltage Height Control, and Columbus programming software to eliminate unnecessary motion and improve productivity. This automatic system requires no operator intervention to produce optimized nests of high-quality plasma cut parts in the shortest time possible.
The Avenger X will also be equipped with the Plasma VBA Global , the latest plasma bevel cutting system from ESAB. The Global PRO incorporates new height control and plate sensing features that allow it to cut bolt-ready holes using Precision Hole Technology. The Global PRO will also utilize ESAB's new XR Series Nozzles, which allow the popular m3 Plasma System to cut thicker materials with less power. The wide cutting range means fewer consumable changes, improved speed, and enhanced cutting quality, which result in dramatic increases in productivity and reduced operating costs.
The Global PRO can also take advantage of ESAB's recently developed Smart Voltage Height Control system and SmartCycle Technology, making it the most accurate and productive plasma bevel system available.
Visit ESAB at Booths N-3922 and N-4122 to see this complete mechanized cutting system in action.
ESAB Welding & Cutting Products is one of the world's largest and most experienced manufacturers of welding and cutting equipment and welding filler metals. Recognized as the technological leader in the industry, ESAB is committed to providing cost effective solutions for its customers. For more information, visit http://www.esabna.com or call 1-800-ESAB-123.