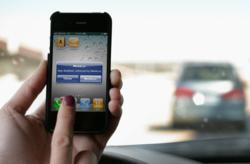 Add a seatbelt for your employee's phone
Dallas, TX (PRWEB) November 12, 2012
MobileLution's announced today that Green Park & Golf Ventures has closed on a strategic investment in MobileLutions. Concurrent with this investment Ronald Howell has joined as Senior VP of Strategic Sales, Kevin Rowden has joined as National Accounts Representative and Adam Gose has joined as Southwest Sales Representative.
"We are excited to be involved with this cellphone policy enforcement solution," says Carl Soderstrom, a founding partner of Green Park & Golf Ventures. "The existence of a great product like MobiLoc and the desire by corporations to protect their business and employees from the dangers of distracted driving seem to be perfectly timed."
The MobiLoc solution is used to enforce the cell phone policy of a corporation and then monitor those policies against the human behavior on the cell phone. A proactive alert is sent to the driver every time they are acting outside of the corporate policy. This allows MobiLoc to act as an electronic seatbelt for the cell phone.
The dangers of driving and using a cell phone are a fact. Click here to see the National Safety Council's Statistics. Accidents are happening at an alarming rate and businesses are being held liable for their employee's actions. Recent cases have resulted in record judgments as high as $21 million.
Add to this the NTSB announcement in December of 2011; calling for a nationwide ban on cell phone use in a vehicle, the motivation for companies to proactively address distracted driving has taken a front seat. See for full details of this announcement.
"Most businesses can't afford a $21 million judgment or even the legal costs to fight it" says Larry Eppard, MobileLutions Founder. "With MobiLoc costing pennies a day per phone, it seems a no-brainer to lockdown and control employee phones, especially if the phone or the vehicle is provided by the business."
MobileLutions is a leader in providing software solutions to prevent distracted driving accidents and reduce exposure to this risk for businesses. The MobiLoc solution is built to enforce and monitor company level policies across the organization for a standard enforcement of the policies. For more information on the MobileLution's corporate solution, please visit http://mobilelutions.com/how-it-works/.
Green Park & Golf, built on over 50 years of operational and financial experience, seeks investment opportunities that offer above-market returns for its investors. Led by Clay Heighten, M.D., and Carl Soderstrom, the firm delivers strategic solutions, financial backing and a reliable network to its portfolio companies. http://www.gpgventures.com