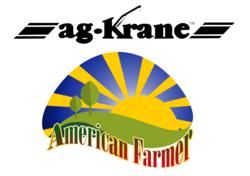 (PRWEB) November 12, 2012
Jupiter, FL ─ DMG Productions announced today that Texas-based manufacturer Agkrane will be a featured guest in upcoming episodes of American Farmer.
Viewers will be amazed as we explore how the Agkrane is impacting farmers nationwide. Whether it's stacking hay, loading pallets of seed, lifting and moving other equipment around the farm, or handling large seed bags, the Agkrane is perfect for making any farm operate at its maximum potential.
"The AgKrane is like no piece of farm equipment I've seen before," said Charlie Cowan, producer for the series. "Most of the time, I see farmers struggling with a front-end loader. By comparison, the AgKrane looks effortless."
Episodes of American Famer featuring AgKrane will air on Rural-TV on November 17, 2012 at 1:30p.m. EST, 12:30 p.m. CST, 11:30 a.m. MST and 9:00 p.m. PST. This episode will also be featured on RFD-TV on February 19, 2013 at 8:30 a.m. EST.
"We are extremely excited about taking part in the filming of the American Farmer series. Having the AgKrane featured on a national tv show will allow us to showcase its many uses to farmers and ranchers all over the country. "
About Agkrane:
Since 1967, the Schlabs family has been designing implement farming equipment. In 1990, Richard Schlabs invented the Agkrane, which started out as a personal implement to be used on the Schlabs Farm to help lift and move various objects.
Popularity of their Agkrane spread rapidly. Neighbors were amazed by how much it would lift and how easy it was to attach and use. Richard quickly saw the Agkrane as a product that every farmer needed on his farm.
In 1995 OEM Magazine awarded the Agkrane an "OEM Emmy" award for Technological and Innovative Excellence. The Agkrane was chosen from hundreds of other products in the Ag market for its revolutionary design and Multi Purpose concept.
For more information, visit http://www.agkrane.com or call 806-364-8552
About American Farmer:
American Farmer is a breakthrough program on a mission to showcase the latest advancements in agriculture and farming. From seed to harvest, livestock and more, our producers have traveled the country covering the people, places and issues impacting all areas of farm country.
American Farmer attracts a large farm and ranch audience along with a loyal following of city viewers who want to remain connected with country living and the business of agriculture.
For more information visit: http://www.dmgproductions.org or call (866) 496-4065.
Media Contact:
Charles Cowan, Senior Producer
DMG Productions
1-800-496-4065 x 875