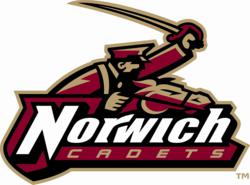 Northfield, VT (PRWEB) November 12, 2012
Norwich University fields a team in Season 2 of New England Sports Network's reality-style game show, "Schooled: NESN's College Face Off."
A team of three Norwich students will take on a team from University of Vermont in Round 1, which airs on Tuesday, Nov. 13 at 7 p.m.
Hosted by comedian Michael Showalter, "Schooled" pits teams made up of three students from eight New England colleges and universities in a competition of wits.
Season 2 of Schooled began airing on Tuesday, Oct. 30, and runs through Dec. 11. In addition to Norwich and UVM, Boston College; New Hampshire; Amherst; Williams; Harvard and defending champion Providence are also competing in Season 2.
Norwich University is a diversified academic institution that educates traditional-age students and adults in a Corps of Cadets and as civilians. Norwich offers a broad selection of traditional and distance-learning programs culminating in Baccalaureate and Graduate Degrees. Founded in 1819 by Captain Alden Partridge of the U.S. Army, Norwich University is the oldest private military college in the United States of America and the birthplace of our nation's Reserve Officers' Training Corps (ROTC). http://www.norwich.edu