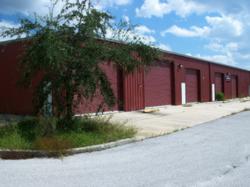 Opportunity knocks, but it wont beat your door down.
Nokomis, FL. (PRWEB) November 11, 2012
Higgenbotham Auctioneers International (HAI) will offer at auction 507 East Laurel Road in Nokomis, Florida at 11am, Tuesday, November 13th. The property is lender comprises 13,580 square feet of warehouse space and is offered in three units.
Situated just two miles from Interstate 75, these commercial buildings are ideal for small manufacturing, storage and maintenance operations.
"Opportunity knocks, but it wont beat your door down. There are many indicators that now may be the most ideal time to buy commercial properties. Best of all, this property is offered at auction, where bidders determine the price." commented John Haney HAI's General manager.
Inventory levels and upward trends in the Florida economy show that now is the time to invest in commercial real estate. Recent reports show the University of Florida Commercial Real Estate Sentiment Index has improved to its highest level in almost five years as business leaders continue to be optimistic about the level of economic growth in Florida. The report stated that, lenders lead the way in optimism as banks start shifting focus away from capital requirements toward revenue and the necessity of making loans.
For complete information about these and other commercial properties, please contact HAI at 800-257-4161 or visit Higgenbotham.com.
About Higgenbotham Auctioneers International Ltd., Inc.:
Founded in 1959, Higgenbotham Auctioneers International ("HAI") is headquartered in Lakeland, Florida and specializes in the sale of corporate real estate throughout the United States and the world by utilizing the auction method of marketing.
HAI is an alliance partner of NAI Global and enjoys continuing relationships with Fortune 500 clients such as Alcoa, International Paper, Wal-Mart Realty, and Sinclair Oil, as well as many publicly traded and closely held companies.
For complete information about Higgenbotham's auction process or its current auction calendar visit higgenbotham.com or call 800-257-4161