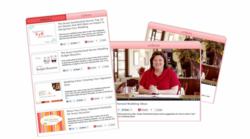 Atlanta, Georgia (PRWEB) November 13, 2012
Perfect Wedding Guide has launched a new section on their Website devoted to wedding planning content. Brides are now able to access eBooks and how-to videos in one location, dedicated to tackling pressing and popular wedding planning details.
Users can search through the library of topics to glean ideas and find solutions for planning their idea of a dream wedding. Each eBook and video offers a wealth of professional advice from Perfect Wedding Guide National Wedding Planning Expert, Susan Southerland. Topics on the media resource page include general tips to theme-specific traditions, including:
-- How to apply for a marriage license (video)
-- Signature cocktails for wedding events (eBook)
-- How to choose the right size wedding venue (video)
-- Wedding budget boosters (eBook)
-- And more.
The announcement of the wedding media page is just another example of recent upgrades to the Website. Just last week, PWG announced its first iPad Wedding Planning App and updated versions to its Android and iPhone apps (1.1). Each of these developments is in efforts to optimize the planning experience, and offer economical solutions to brides of all budgets.
To access these exciting wedding planning videos and eBooks visit http://www.perfectweddingguide.com/resource-center/ebooks/
About Perfect Wedding Guide:
For over 20 years, Perfect Wedding Guide has been dedicated to creating modern and stylish wedding planning solutions for brides of all budgets. Our company offers couples a number of free planning products to help brides and grooms focus more on their big day and stress less about their budgets. Our local guides and bridal shows are available coast-to-coast in over 60 markets nationwide, showcasing some of the country's top wedding professionals who work right in their client's backyards. Our national Website, PerfectWeddingGuide.com, includes an array of resources to glean inspiration—from fresh planning tips and ideas to an extensive photo gallery of wedding fashion to easy-to-use wedding planning tools, and even a daily wedding blog hosted by our national wedding planning expert. For more information on our products, services and advertising opportunities, visit http://www.PerfectWeddingGuide.com.