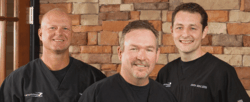 Fort Worth, TX (PRWEB) November 11, 2012
Fort Worth Dental's Dr. Terry M. Zang, Dr. Arthur J. Mund, and Dr. Justin Mund utilize a variety of whitening procedures to help people attain the bright smile they are looking for. One of the most popular professional methods is teeth whitening with tray-based products provided by the dentist and done at home. Another procedure where whitener is applied to the teeth directly is performed in the office. Professional products can provide noticeable results more quickly than over-the-counter products.
One of the main differences between commercial and professional methods is the strength of the agent being used for bleaching. Many at-home formulas will contain only 10 to 20 percent of the whitening agent, while the in-office application contains between 15 and 43 percent. The stronger formulas naturally provide faster results. Another issue is the consistency of the treatment. With over-the-counter tray-based products, the trays are generic and designed to fit an average mouth. This means they are not designed for one's specific tooth arrangement, which can lead to uneven color levels. In-office tray-based systems utilize a tray that has been created to fit a mold taken of the patient's teeth. The take-home bleaching product can be evenly applied in the tray to create an overall standard amount of whitening.
In addition to stronger formulas and more even results, receiving treatment in a dental office means that patients receive professional care. The dentist can apply gels to the gums to protect them from the irritation that can be caused by the bleaching agents or protect the mouth with a rubber shield. In addition, the dentist can provide a complete examination to determine the proper method of lightening the teeth based on the type of discoloration a patient has.
The fastest way to whiten teeth is an in-office treatment for teeth whitening with the dentist applying a bleaching agent that is cured with a special laser or light. This procedure can take anywhere from 30 minutes to an hour and usually provides very noticeable results. People who want a white smile can learn more about their options by visiting http://www.fortworthdental.com.
Fort Worth Dental is a general practice offering patients personalized dental care for Fort Worth, TX. Dr. Terry M. Zang, Dr. Arthur J. Mund and Dr. Justin Mund are all dedicated to their dental practice, which offers the recent FDA cleared laser procedure for gum disease and periodontal treatment. Focused on preventative, restorative and cosmetic dentistry, they each have unique attributes for the practice. To learn more about Fort Worth Dental and their dental services visit their website at http://www.fortworthdental.com.