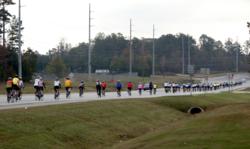 "It's exciting to see people coming together to support the dream of building this camp that will benefit so many children."
Peachtree City, Ga (PRWEB) November 09, 2012
SIGVARIS and Atlanta Trek recently organized a bike ride and fall festival event that generated $14,678 for Camp Southern Ground. Representatives from each organization attended a check presentation ceremony today at the Camp Southern Ground office.
Through the SIGVARIS Century and Fall Harvest Festival businesses and members of the community all came together to support this great cause. Bike riders had the option of participating in a 35-mile, 65-mile or 100-mile bike ride. The Fall Harvest Festival included local craft vendors, food, games for kids, music, a kids Halloween costume contest, pumpkin painting and an area for sponsors.
"We are so honored that Camp Southern Ground was named the beneficiary of this inaugural event," says Jean Peck, Executive Director at Camp Southern Ground. "It's exciting to see people coming together to support the dream of building this camp that will benefit so many children. Everyone at Camp Southern Ground looks forward to watching the SIGVARIS Century and Fall Harvest Festival event grow in the years to come as more people learn about the ride and gain awareness about the mission of Camp Southern Ground."
Camp Southern Ground is being built on 500 acres in Fayette County and will provide a state-of-the-art facility that will serve children ages 7-17, with both typical and special needs. The camp is the passion project of Grammy Award winning artist Zac Brown and will be a place where children of diverse abilities, socio-economic backgrounds, races and religions can all come together to learn life skills and encourage personal growth in a positive, healthy and organic environment.
This year's event sponsors included: SIGVARIS, Atlanta Trek, The Home Depot, Chick-fil-A Dwarf House, GRAPHCOM, SMC3, W. Winston Briggs Law Firm (The Bicycle Lawyers), Integrated Science & Engineering, Solid Source Reality (Mike & Jessica), Priority Jet, Swofford Construction, Inc., ClearWater Academy, Coweta-Fayette EMC, Ferguson Heating and Air Conditioning Co. Inc., Prudential Realty (Kim Leedy), Daniel Hill Camp Photography, State Farm (Agent: Clay Van Meter), Southern Ground Social Club, Southside Cycling Club, More Than Moon Walks, Shenanigan's Toys and Todd & Krista Burrus. In addition, Care Plus Emergency Medical Services and Dr. Alisha Mayheu of HealthSource generously donated their time to support event riders.
To view photos from this year's event, please visit http://www.facebook.com/SigCentury. To learn more about Camp Southern Ground, visit http://www.campsouthernground.org. Those interested in learning more about this event should email: SigCentury(at)gmail(dot)com.
About SIGVARIS
SIGVARIS® North America is part of an internationally active medical device group headquartered in Winterthur, Switzerland that focuses on the development, production and distribution of medical compression garments, including hosiery and socks. With distribution in more than 60 countries on six continents, SIGVARIS is recognized as a global industry leader in the area of compression therapy for the management of chronic venous disorders. SIGVARIS product lines include: SIGVARIS Medical, SIGVARIS Well Being and SIGVARIS Sports. Our US manufacturing plant is located in Peachtree City, GA. For more information, please visit http://www.sigvarisusa.com. SIGVARIS is a registered trademark of SIGVARIS AG, CH-9014 St. Gallen/Switzerland and in many countries worldwide.