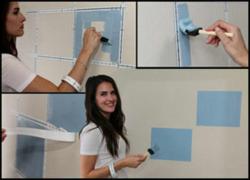 Measure-It! can be used for almost any job where measurement is required.
Toronto, Ontario (PRWEB) November 13, 2012
Measure-it! adhesive measuring tape is the perfect tool to assist when hanging drapes and pictures or for dozens of other home improvement projects.
"Dynamic is always on the lookout for new innovative products that add value to our customers' lives and we believe that Measure-It! is one of those type of products. Measure-It! can be used in painting of course, but also has many other applications. We are excited to add Measure-It! to our line-up and believe this product will sell well in Canada and beyond", says John Burke, Vice President of Marketing at Dynamic Paint Products Inc..
Applied to the wall, floor or almost any other surface, Measure-It! acts like a third hand for DIY'ers when tackling their home renovation and home decorating projects by leaving their hands free to mark, drill, cut, hang etc. It allows them to complete the project quickly and accurately and can be removed without leaving a mark.
Measure-It! tape is very simple to use and can be helpful for many jobs including:

Hanging blinds or pictures
Painting
Room Layout
Drilling/cutting
Fabric measurement
Arts and crafts
Measure-It! can be used for almost any job where measurement is required. With no liner to remove, the tape peels off the roll like a normal household tape and can be put directly on almost any surface. The tape is low tack, which allows it to be repositioned several times if necessary. Measure-It! can be marked with a pen, pencil or marker, torn off where needed, and the product is recyclable. Measure-It!'s simplicity appeals strongly to women who like to tackle DIY decorating projects.
For Measure-It! Canadian sales inquiries, contact John Burke at Dynamic Paint Products Inc: 905 812 9319 x325 or email jburke(at)dynamicpaintware(dot)ca. Bronto Marketing Group Inc. (BMG) has exclusive marketing rights for Measure-It! worldwide. BMG strives to introduce high quality consumer products to new markets. Contact BMG at 1 855 349-8273 or visit measureittape.com