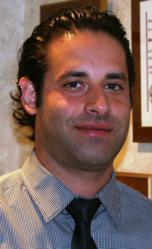 Brooklyn, NY (PRWEB) November 12, 2012
Dr. Navid Baradarian of Marine Park Periodontics & Implantology installs implant-supported dentures as a means to make the denture stay permanently in place. One of the problems with a traditional denture, in addition to noise and slippage, is that it rests directly on the gums, which can be irritating. Nothing stimulates bone regeneration the way natural teeth do so the jawbone begins to deteriorate. This affects the way the denture fits and can give a person the appearance of a "sunken face." With dental implants supporting the denture, the jaw is stimulated normally and the fit does not change over time.
The majority of adults between the ages of 35 and 45 are missing one or more permanent teeth, while 25 percent of those over 75 years of age are missing all their natural teeth. Implant-supported dentures provide patients with a long-term solution when most or all of the teeth are missing. Not only do they stay in place but they are able to function like natural teeth, allowing the patient to eat normally. They are designed to look like natural teeth, and most people cannot tell that a person is wearing a denture.
Implant-supported dentures may be either bar-retained or ball-retained. Those that are bar-retained usually feature three or four dental implants that are installed in the jawbone, and there are metal bars attached to the implants. The denture is attached to these with clips that keep it in place. The ball-retained version has a ball that is attached to each implant abutment, locking the denture sockets and holding it securely. With both types of implant-supported dentures, the denture may be removed to be cleaned.
Dr. Baradarian utilizes dental implants as a long-term answer to the problems posed by missing teeth. Patients who receive this procedure enjoy the ability to eat normally because of the strength imparted to the denture by the implants. To learn more about the procedure visit http://www.marineparkperio.com.
Marine Park Periodontics and Implantology is a periodontal practice offering patients personalized dental care for Brooklyn and New York, NY. Dr. Navid Baradarian became a Doctor of Dental Surgery at State University of New York at Buffalo School of Dental Medicine; he earned a Certificate with honors in Productivity and Patient Care from New York University Advanced Education in General Dentistry - New York, NY, and received extensive training in implant dentistry; he achieved his Specialty Certificate in Periodontics at University of Medicine and Dentistry of New Jersey. Dr. Baradarian is part of one percent of dental professionals providing the most recent FDA cleared laser procedure for gum disease and periodontal treatment. To learn more about Marine Park Periodontics and Implantology and their dental services visit their website at http://www.marineparkperio.com and call the Brooklyn location at (347) 586-5997 or New York City at (917) 472-9904.