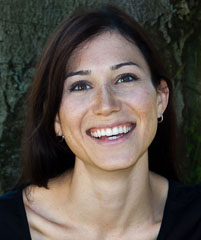 Parents contact me often, struggling to understand an illness that has changed every aspect of the child they knew
Stamford, CT (PRWEB) November 13, 2012
There's no upside to having Lyme disease. It can ruin lives, friendships, and families. However Katy Reid, 27, who fought through multiple misdiagnoses and stigma as a high school student with Lyme disease, decided to turn her personal struggles into something positive for others.
Since 2010, Reid has been running a support group in Ridgefield, CT, for chronically ill Lyme disease sufferers aged 16-30, drawing young adults from as far away as New Jersey and upstate New York.
"Parents contact me often, struggling to understand an illness that has changed every aspect of the child they knew," says Reid, who became ill 11 years ago and, like most Lyme sufferers, visited numerous doctors before finally being diagnosed and treated. "The parents hope that my support group, which meets monthly, will return their loved ones some of what they lost, whether it's common compassion or a burgeoning friendship."
Reid knows all too well the realities of being a young person with Lyme disease. She speaks forcefully and passionately about her awful high school years when she was often bed-ridden and suffered from Bell's palsy, hair loss, severe stomach problems and other disorders. Lyme disease ruined her once-excellent grades, forced her to drop out of varsity athletics due to fatigue, and made her miss milestones of adolescence such as prom, first job, and first boyfriend.
She recounts how she found herself excluded from group projects because classmates worried her failing memory would affect their grades. Others told her bluntly they didn't want to be around someone who was sick. Nor did Reid's problems end when she went to college.
"The student health staff at UConn was ill-equipped to handle my needs and they added to my stress by lecturing me that chronic Lyme disease doesn't really exist," she recalls. Reid decided to move to California and graduated from the University of San Diego.
Today, Reid is working on her Master's degree in clinical mental health counseling at Western Connecticut State University. She is also employed by Yale University, working in the school system with Bridgeport area adolescents. She says she's constantly amazed by the lack of awareness about Lyme and other tick-borne diseases.
"Not one of the kids had ever heard of ticks or Lyme disease despite the fact they often visit parks, summer camps and travel with their families around the state unaware of the risk that awaits them," she says.
Reid hopes to eventually go into private practice helping chronically ill young adults. "Unless you've lived through this disease, it's impossible to understand," she says.
She recently testified about her experiences and observations as a Lyme sufferer at the U.S. Senate Lyme disease field hearing at the University of Connecticut, Stamford. It was there that Reid earned our attention and triggered our decision to name her as Lyme Research Alliance's Person of the Month.
"Listening to Katy's powerful testimony, as well as her determination, strength and commitment to helping young adults with chronic illnesses, made her someone we knew we wanted to honor," said Peter Wild, Lyme Research Alliance's Executive Director. And what does Reid have to say about this?
"I'm shocked," she said. "I see myself simply as one person advocating in the community." But, she's quick to add, "Lyme changed me. My personal hope is that we see greater education of doctors, better diagnostic tools. But in the meantime, I have joined the masses of patients who have come to the conclusion that progress begins with us."
To interview Katy Reid about young adults with Lyme and other tick-borne illnesses, contact LRA Executive Director Peter Wild at 203-448-8801.
___________________________________________________________________
Lyme Research Alliance, formerly Time for Lyme, is a Connecticut-based, national non-profit that funds cutting edge research into Lyme and other tick-borne diseases. For more information go to http://www.lymeresearchalliance.org
__title__ FB Page]