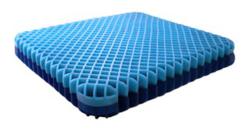 Today I am so thankful for the time I get to spend with my kids. It is a privilege to be able to stay home with them and be there for all their needs. And hear their screaming moments -- such great comic relief!
Alpine, Utah (PRWEB) November 10, 2012
WonderGel, LLC, which opened in May 2010, is a seller of a line of unique gel seat cushions and comfort products. In the past 2.5 years, WonderGel has flourished in its effort to bring comfortable seating to the general population. WonderGel is astounded and grateful for the business and impact they've had, and want to share their gratitude with everyone.
Now, with a reach of nearly 40,000 people, WonderGel has launched a "Thanksgiving Photo Contest" encouraging entrants to upload a photo of what Thanksgiving means to them, and more especially, caption it with something they are grateful for.
The inspiration for this photo contest has been the flood of "Giving Thanks" and "Gratitude Challenge" posts that inundate Facebook in November, in which participants post something they are thankful for every single day through Thanksgiving Day. Post such as "Today I'm thankful for music and dancing. I love how they make me feel!" and "I'm thankful for electricity. Is amazing how much we depend on it, but take it for granted," gave the WonderGel marketing team the push they were looking for.
So, knowing people were grateful for things, and that they were willing to express it, WonderGel decided to host this photo contest in hopes to reward those with an attitude of gratitude. The submission period is open November 8 -22, 2012 in which anyone over 18 in the US and Canada can submit their Thanksgiving photos with a statement of what they are grateful for. Voting is then open to the public through November 30, 2012 where everyone can vote on pictures once per day. The top four winners will be announced December 1, 2012 where each will receive one of WonderGel's gel seat cushions.
The WonderGel Thanksgiving Photo Contest can be entered via their Facebook page or the app-hosted contest entry page.
Learn more about WonderGel® at http://wondergel.com/