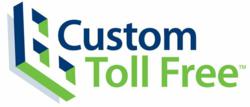 "This offer is amazing. It's the deepest discount we have
ever given and we hope it makes our services more accessible to small
businesses who have been waiting for a cost effective solution" -Christy Green, VP of Sales & Marketing
Mill Creek, Washington (PRWEB) November 12, 2012
800 toll free numbers are coming to you cheap with Custom Toll Free's unique special offer. In the spirit of Black Friday, and the steals of deals that normally kick off the holiday season, Custom Toll Free is coming out with a unique special of their own. Custom Toll Free is offering a discount of up to 75% off new reservations for 800 toll free services. This offer is good for the entire month.
For whatever industry, business or service, public or private, Custom Toll Free is offering a "Black Friday" inspired deal for 800 toll free number services. Besides providing vanity toll-free numbers for business, public service, informational or even recreational services, Custom Toll Free brings cutting edge amenities to make sure that the best vanity numbers available get the best business and the biggest returns on investment. Even in today's age of social media and smartphones and other new standards of communication, toll free numbers have continued to stand the test of time as the vital bridge of communication between customers and consumers.
So it's only fitting that Custom Toll Free is offering this 75% discount steal of a deal connecting consumers, clients, customers, and businesses alike. No need to camp outside any stores, this offer is good for the entire month of November. No matter the size and strength, aims and ambitions of the business, service, focus or field, Custom Toll Free will provide the excellence in experience and expertise with custom-tailored customer service and marketing solutions.
Whether stuffing a stocking or basting the turkey, Custom Toll Free has got a special holiday deal for those who have been looking to reserve 800 toll free number services. There hasn't been a better opportunity to give your business the gift of a time-tested and result-driven means of accessibility. With a vanity 800 toll free number, the service and sales will be a gift that keeps on giving.