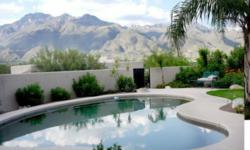 Tucson, Arizona (PRWEB) November 11, 2012
Tired of scrolling endlessly in search of the perfect home?
Tucson Homes for Sale recently invested in updating their website to web 2.0 standards. On their website, you can find houses throughout southern Arizona even breaking up the homes by communities. Tucson Homes for Sale reaches out to the greater Tucson area including: Vail, Oro Valley, Mt. Lemmon, Oracle, Red Rock and more!
What separates Tucson Homes For Sale from other online housing markets is the amazing high-definition pictures. Filled with luxurious views of the beautiful Arizona landscape, Tucson Homes For Sale's webpage depicts the colorful skyline, stunning swimming pools, and (rare to Arizona) magnificent hanging gardens resembling that of the great Babylon mansion.
Aside from the astonishing pictures, the user-friendly site allows for easy navigation. Each house displays features such as swimming pools, local schools, and number of garage spaces. Along with these features, the site also provides satellite and map views of the specific location. The accessibility to view the houses online using Google Maps and Bing is a spectacular feature. Tucson has a variety of appeals to those moving here from out-of-town.