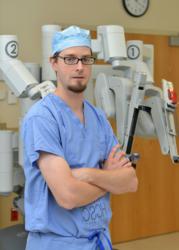 "Patients need someone who will listen to them and understand their concerns.It is important for the physician to convey the treatment plan so the patient understands both the plan and the rationale behind it." Dr. Noah May
Norristown, PA (PRWEB) November 15, 2012
Dr. Noah May has joined Urologic Consultants of Southeastern Pennsylvania. He will partner with Dr. Laurence Belkoff and Dr. Samuel Manfrey at their office at Mercy Suburban Hospital, 2705 DeKalb Pike, Norristown. Drs. Belkoff and May along with Drs. Jamison Jaffe and Michael Metro are opening an additional office this Fall at the New Einstein Montgomery Medical Center at 609 West Germantown Pike.
Dr. May will see patients in both offices and perform urologic procedures including robotic surgeries at both hospitals, which offer advanced robotic surgery technology. Drs. Jaffe and Metro were named Top Doctors by Philadelphia Magazine.
Having a doctor-patient relationship that is comfortable means a lot to men and women experiencing urologic problems. They need to feel at ease discussing their concerns and confident in their doctor's abilities.
"Patients need someone who will listen to them and understand their concerns. In addition to providing a solution, it is important for the physician to convey the treatment plan so that the patient understands both the plan and the rationale behind it," Dr. May says.
Dr. May treats all kinds of urologic problems, from simple to the most complex. He is trained in laparoscopic and robotic surgery, which can provide better outcomes for patients with prostate cancer. "The precision of robotic surgery helps us to minimize side effects like erectile dysfunction and incontinence for many patients undergoing prostatectomy. It results in shorter hospital stays and faster recovery as well as less pain, scarring and risk of infection."
Dr. May was drawn to urology because of the blend of advanced technology and old-fashioned communication necessary to care for a wide variety of problems. He treats everything from incontinence and ED to kidney stones and BPH to bladder and prostate cancer.
During his urology residency at the Philadelphia College of Osteopathic Medicine and Albert Einstein Medical Center, Dr. May received laparoscopic and robotic surgery training from urologists who are fellowship-trained in robotic and laparoscopic surgery. He completed a rotating internship at Mercy Suburban Hospital after earning his Doctor of Osteopathic Medicine degree from PCOM. He earned a bachelor's degree in chemistry from St. Mary's College of Maryland and a master's degree in biotechnology from Johns Hopkins University.
Urologic Consultants is a practice of 15 physicians with extensive experience, including robotic and minimally invasive surgery for treatment of incontinence, sexual disorders, enlarged prostate, urologic cancers and women's urology. Physicians in the practice teach at three local universities and participate in numerous research studies. They have offices throughout the Philadelphia area. For more information, visit http://www.urologicconsultsepa.com or call Dr. May's office in Norristown, (610) 277-0313 or East Norriton, (610) 233-3200.