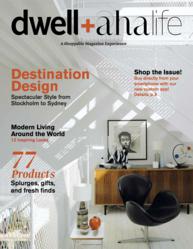 New York, NY (PRWEB) November 13, 2012
Dwell Media launches its first shoppable magazine experience today featuring cutting-edge modern design for the home through augmented reality. Partnerships with AHAlife, a leading online luxury marketplace, and Layar, the world's leading mobile augmented reality and interactive print platform, enable Dwell readers to shop the content of Dwell magazine from their mobile devices -- just in time for the holidays. The Dwell+AHAlife app lets readers scan an item with their phone and then links them directly to the AHAlife site where they can purchase the item with a tap of the finger. This new magazine experience fosters interactivity with print products that consumers and advertisers have long been lacking making print relevant again in a whole new way.
The special issue is polybagged with Dwell's Dec/Jan subscriber issues, and is sponsored by Mastercard. The issues will reach 280,000 subscribers next week. The curated gift guide offers 77 mouth-watering, must-have modern designs for the home, compiled from recent fall issues of Dwell. Additionally, all of the products can be found in the digital storefront at dwell.ahalife.com.
"The opportunity to take the content in the pages of Dwell, and create a seamless commerce experience for our readers is a win-win for us," said Dwell President Michela O'Connor Abrams. "We have the amazing opportunity to give designers we love, many of them young or far away with limited access to the market, a great lift up. And our readers, who are always scouring the magazine for new ideas and products, don't have to look farther than their phones to shop the pages of Dwell."
The new digital platform not only enhances the consumer's experience, but has also enriched Dwell's relationship with the design community by creating e-commerce avenues for designers and their products. Readers often struggle to find the products they see in magazines, as designers struggle to reach the consumer. This new e-commerce experience breaks down that barrier by offering instant access and purchasing power. The design offerings represent the full spectrum, from emerging designers to established designers like Jaime Hayon, whose work is well published, but not readily available. Now, Hayon's handmade copper grid vases can be yours with a click of a button.
"Having a brand like Dwell promote young designers helps validate their work, which is hugely important," says recent Cranbrook grad and Clip Tree designer Matthew Plumstead. "The reach of Dwell into people's lives far exceeds anything a young designer could hope for. But to sell their work as well is icing on the cake. It removes large barriers between the buying public and the designer."
The new special issue continues Dwell's longstanding mission of bringing good design to everyone, anytime, anyplace and in any form….and now on any device!
About DWELL MEDIA, LLC: Dwell Media is the parent company of Dwell magazine, Dwell Digital + Mobile, Dwell on Design events, and the Dwell Homes Collection. Founded in 2000 by Lara Deam, Dwell has received countless industry awards and is widely regarded as a leading voice in the modern design movement. Championing a philosophy that is idea-driven and sensitive to social and physical surroundings, its enduring passion for design leads a passionate community of design-seekers to be "At Home in the Modern World." Learn more at http://www.dwell.com.
About AHAlife Holdings, Inc.:
AHAlife.com connects the best the world has to offer to the most discerning individuals from around the globe. Founded in September 2010 by MIT engineer-turned commerce and media industry expert, Shauna Mei, AHAlife.com received wide media acclaim hailing its full price full value business model and being ahead of the major industry trend merging content, curation and commerce. The mission was to create a sustainable platform delivering the most unique items directly to a global audience of intelligent, sophisticated consumers. AHAlife.com's garnered an extensive curator network including tastemakers such as chef Daniel Boulud, model and philanthropist Petra Nemcova, trendsetter Olivia Palermo, filmmaker Wendi Murdoch, and spiritual adviser Deepak Chopra. The unparalleled offering of hand-selected products ranges from beauty to fashion, technology, food and home décor and are all united by their superior quality, unique provenance and innovation.
About Layar
Layar connects our digital lives with the physical world. The Layar app, available for iPhone and Android, has been downloaded more than 26 million times, making Layar the world market leader in mobile augmented reality (AR) and interactive print. The Layar Creator, a self-service drag-and-drop AR campaign builder, is the easiest and most versatile tool for publishers using interactive print to enhance their publications with digital content, including videos, Facebook "Like" buttons and direct purchase links. Layar was founded in June 2009, and is based in Amsterdam, The Netherlands. The company's shareholders include Intel Capital, Sunstone Capital and Prime Ventures.