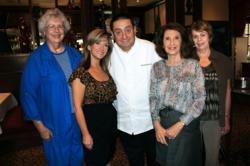 Palm Desert, Calif. (PRWEB) November 09, 2012
About 70 women from throughout the Coachella Valley gathered in Palm Desert on Wednesday, Nov. 7, to learn cooking tips and support Loma Linda University Children's Hospital, which is the only designated pediatric level 1 trauma center for children in the Coachella Valley.
The first of the Big Hearts for Little Hearts (BHLH) Desert Guild Cooking Demonstrations, held at Cuistot Restaurant with owner and Executive Chef Bernard Dervieux, was a fundraising event that also kicked off the 11th season of the BHLH Desert Guild, a group started by Coachella Valley women, including Dr. Jane Woolley and former U.S. Rep. Shirley N. Pettis Thompson, to help raise awareness and support for Children's Hospital.
The event was a chance for participants to get ideas for the kitchen, make or strengthen friendships, and learn more about the work being done to better serve the health needs of children in the Coachella Valley.
"Among our most ardent and valued supporters are the residents of the Coachella Valley," said Randy Possinger, assistant vice president of the Loma Linda University Health Office of Philanthropy. "The cooking demonstration was just one example of the many creative ways the Guild supports the valley's Children's Hospital and helps ensure the sickest children in the valley have a place to go."
Dr. Shamel Abd-Allah, chief of the Pediatric Critical Care Division at Children's Hospital, said the group's support has been critical in bringing much-needed services and equipment for the valley's children, including providing funds for the new pharmacy in the Pediatric Intensive Care Unit (PICU).
"I look forward, God willing, to continuing to work with the Guild to purchase the latest technology and equipment to continue to improve care for the children we transport to the PICU," Dr. Abd-Allah said.
Photo caption: The first of the Big Hearts for Little Hearts (BHLH) Desert Guild Annual Cooking Demonstrations, 2012–2013 season, took place at Cuistot Restaurant on Nov. 7. Following the cooking demonstration, Executive Chef Bernard Dervieux visited with emcee Jenifer Daniels (second from left) and Guild members (l–r): Joyce Engel, president; Sherry Cherlin, chair, BHLH Cooking Demonstration series; and Nancy Volk, chair, BHLH Annual Boutique and Luncheon.
# # #
About Loma Linda University Children's Hospital - LLUCH
The Children's Hospital is the only dedicated children's hospital in the vast geographic region of the San Bernardino, Riverside, Inyo and Mono counties. With 277 beds dedicated just for kids, one of the largest Neonatal Intensive Care Units (NICU) in the country, and more than 100,000 children who come each year, LLUCH is a major pediatric teaching facility for Loma Linda University and is part of the Loma Linda University health care system. Known worldwide as the pioneer of neonatal heart transplantation, LLUCH has performed more infant heart transplants than any other center of its kind.