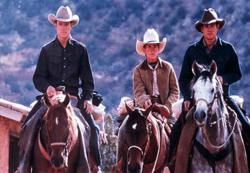 Miami, Florida (PRWEB) November 13, 2012
The Cormac McCarthy Society will celebrate its 20th anniversary at its annual conference on March 6-9, 2013, at Berea College in Berea, Kentucky. Details of the conference are available on the Society's homepage at http://www.cormacmccarthy.com.
The conference will also celebrate the 20th anniversary of the publication of Cormac McCarthy's National Book Award winning novel All the Pretty Horses. Beloved for its exquisite language and vivid depiction of the decline of the old west, All the Pretty Horses is an American classic. The book and its film adaptation by Billy Bob Thornton will be the subject of lectures, talks, seminar panels by an international group of critics and scholars. Film presentations will feature extensive interviews with Thornton and the stars of the film, Matt Damon, Lucas Black, Henry Thomas and Bruce Dern.
The deadline for submitting proposals for presentations of discussion panels is November 30, 2012. The early registration deadline for the conference is February 15, 2013. Those wishing to present papers or conduct panels, or to attend as spectators, should consult the Society's web site for further details.
The Society will publish a selection of the best presentations from this conference in late 2013 as the third volume in its new Cormac McCarthy Casebook Series. These casebooks offer complete and balanced assessments of McCarthy's novels, plays and screenplays. They will also consider the several films adapted from his works, including the Academy Award winning No Country for Old Men and the film of his Pulitzer Prize winning novel, The Road. Each edition in the series will appeal to McCarthy's worldwide legions of fans and lay readers as well as to scholars and students.
The Cormac McCarthy Society is an independent nonprofit educational organization not affiliated in any way with the author, his publishers or his agents. Founded in 1993 by a group of fans and scholars for the purpose of studying the author's works and literature of the Appalachia, the American South and Southwest.
For more information about the Society, its conferences, casebook series and its many other activities, please contact Rick Wallach, chairperson of the conference and Secretary of the Society, at info(at)cormacmccarthy(dot)com.
An historic liberal arts college, Berea is hosting the conference in conjunction with the quarterly literary journal Appalachian Heritage, a publication of its Appalachian Center. For more information about this unique and progressive institution, please visit its homepage at http://www.berea.edu.