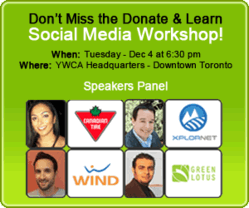 Donate & Learn Workshops are a unique opportunity to network, and meet some of the leading experts in Social Media and Online Marketing, and support a great cause!
Toronto, Ontario - Canada (PRWEB) November 13, 2012
Support a great cause and learn about social media this holiday!
The YWCA Toronto and Green Lotus present the Donate & Learn – Social Media Workshop. 100% of donations will go towards the YWCA Toronto Adopt-a-Family Program to help give families a special holiday – ensuring that mothers can buy a present for their children, and single women can treat themselves for once.
Register early to reserve your seat for the Tuesday, December 4, 6:30pm Workshop at the YWCA Headquarters (downtown Toronto). View Donate & Learn – Social Media Workshop Details.
Donate & Learn - Social Media Workshop Agenda:

What to pack for the journey into social media – organizing, training and the tools of the trade.
How to jump-start a social media presence, and develop a strategy.
Industry examples of how to best manage a social media plan, and improve brand awareness.
How to maximize the search engine marketing benefits of your social media plan.
Who should attend the Donate & Learn Workshop?
Whether just getting started with social media, planning an online marketing strategy, or deep into implementation; the Donate & Learn Workshop will provide the knowledge, strategies and networking opportunities needed to improve social media and online marketing results, taking businesses to the next level!

Small / Business Owners
Marketing / Sales Managers
Social Media Specialists
PR / Communication Specialists
SEO Specialists
Creative Directors
Origins of Donate & Learn Workshops:
The workshops are an initiative created by Green Lotus (Toronto Search Engine Optimization & Online Marketing Company) to support Toronto's local non-profit organizations/charities, and provide informative workshops for small and medium businesses with a focus on social media, online marketing strategies, and the tools needed to achieve online marketing goals.
When asked what prompted him to create such an initiative, Baseem Ghali, founder of Green Lotus, stated "I wanted to find a way to support local non-profit organizations and charities this holiday season, and looked into volunteering my time. I then thought that if I used my online marketing skills, as well as my professional and social networks, I could perhaps generate a larger effect. I shared the idea of doing an education workshop, with all proceeds donated to a local charity, and got nothing but encouragement, support, helpful ideas, and volunteers. The Donate and Learn Workshop is the result of the collaborative work of a multitude of individuals. I look forward to the event at the YWCA, and hope that we can make a difference in the lives of women and children through the Adopt-a-Family program."
Workshop website: http://greenlotus.ca/workshop