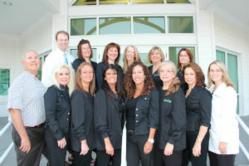 Palm Harbor, FL (PRWEB) November 12, 2012
Knellinger Dental Excellence is proud to offer a revolutionary, new dental surgery procedure to its patients. Dr. Knellinger is fully trained on the FDA cleared Laser Assisted New Attachment Procedure that treats gum disease without the need for scalpel or sutures. Gum disease affects millions of adults in this country, and many of those with the problem have not visited a dentist to receive treatment. Treatment is critical since gum disease has been linked to other health problems such as low birth-weight babies, diabetes and pancreatic cancer, just to name a few. With the new LANAP laser surgery technique, more patients may be willing to seek treatment for periodontal disease.
The basic LANAP laser surgery procedure begins with Dr. Knellinger using an instrument to measure the periodontal pocket depth so that the loss of attachment can be properly determined. Next, the fiber optic-tipped laser is used to send out pulsed light that kills the bacteria in the pocket and removes diseased gum tissue. Ultrasonic scalers are used to remove the calculus or tartar deposits that have formed below the gum line. The laser stimulates the soft tissue to clot and attach to the root, and the bone's regenerative abilities are stimulated.
Dr. Knellinger and Dr. Verkler will discuss treatment options with each patient on an individual basis. This is the only way to determine whether a patient would be a good candidate for laser surgery. Because there are a number of treatment options, both doctors will work with individuals to meet their needs. Their goal is to treat gum disease before it becomes too serious. To learn more about dental surgery such as the LANAP treatment for periodontal disease, visit http://www.palmharbordentistry.com.
Knellinger Dental Excellence is a general practice offering patients personalized dental care for Palm Harbor, Florida. As a father-daughter team and Palm Harbor natives, Dr. Knellinger and Dr. Verkler both attended the University of Florida and University of Louisville School of Dentistry. They are part of one percent of dental professionals providing the most recent FDA cleared laser procedure for gum disease and periodontal treatment. To learn more about Knellinger Dental Excellence and their services visit their website at http://www.palmharbordentistry.com and call (727) 785-3383.