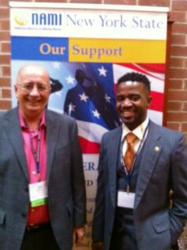 Veterans need to get help, but they need to know where to go. The disconnect is that we don't do enough personal outreach
Belleville, Ill. (PRWEB) November 09, 2012
The U.S. Census Bureau reports that more than 5.5 million U.S. veterans have a disability, but only a little over 3 million are receiving compensation and pension benefits from the U.S. Department of Veterans Affairs. Many veterans may not realize the range of options available to them when handling the challenges of mental and physical conditions, according to Allsup, a nationwide provider of Social Security Disability Insurance representation and veterans disability appeal services.
"There are enough services available, but there is not a lot of personal outreach," said Marine Corps Vietnam veteran Jim Beddow, who subsequently served in the U.S. Army. "Veterans don't know where to go for services. Sometimes the system is very confusing, and we have veterans that are too proud to ask for help."
Beddow is chairman of the Albany, N.Y. VA Veterans Voice Mental Health Advisory Council, a volunteer organization that helps veterans and their families navigate the VA mental health system. Many VA hospitals throughout the nation have similar volunteer councils.
Beddow and others who work with veterans will be available Monday, Nov. 12, from 1 to 2 p.m. CST during a live Q and A at the free online Allsup True Help® Disability Web Expo.
In observance of Veterans Day, Allsup is sponsoring the online forum for veterans and their families to learn more about available resources. Event participants must register at WebExpo.Allsup.com. The chat can be found by visiting the True Help Auditorium, and clicking the "Public Group Chat" icon. Participation is free.
"The military culture encourages you to 'stuff it'—to tough it out," Beddow said. "You're trained to ignore pain and a certain amount of mental anxiety. When you get out in the real world, it's not like that. Veterans need to get help, but they need to know where to go. The disconnect is that we don't do enough personal outreach."
Some of that personal outreach will be provided Monday with the live chat for veterans and their families. Beddow will be joined by:

Brett Buchanan, Allsup VA-accredited claims agent
Michele Cowell, founder, Military Matters, an organization focused on veteran assistance and referral service
Derrick E. Felton, MSW, ASW, team leader and readjustment counseling therapist, Peninsula Vet Center
Himler Francois, Veterans Voice Mental Health Advisory Council, Albany Stratton VA Medical Center.
Participation Instructions
Register for the Web Expo and view the presentation "What You Need to Know About Veterans Disability" (available now) by going to WebExpo.Allsup.com and visiting the True Help Auditorium. On Monday, Nov. 12, from 1 to 2 p.m. CST, attendees can participate in the live Q and A by clicking on the "Public Group Chat" icon on the top right corner of the screen inside the True Help Auditorium.
For more information, call Allsup's manager of Strategic Alliances, Tai Venuti, at (800) 854-1418, ext. 68573 or email t.venuti(at)allsupinc.com.
ABOUT ALLSUP
Allsup is a nationwide provider of Social Security disability, Medicare and Medicare Secondary Payer compliance services for individuals, employers and insurance carriers. Founded in 1984, Allsup employs more than 800 professionals who deliver specialized services supporting people with disabilities and seniors so they may lead lives that are as financially secure and as healthy as possible. The company is based in Belleville, Ill., near St. Louis. Visit http://www.Allsup.com or connect with Allsup at http://www.facebook.com/Allsupinc.
# # #