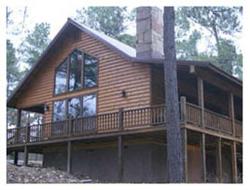 BROKEN BOW, OK (PRWEB) November 12, 2012
Many people choose to get away to Broken Bow Cabins and Beavers Bend Cabins, located minutes from Oklahoma's Broken Bow Lake in Beavers Bend State Park. Located in the Ouachita and Kiamichi Mountain Wilderness in southern Oklahoma, Broken Bow Lake is the ideal setting for a weekend getaway or longer trip.
Broken Bow Cabins are close to the beauty of nature, located on private lots surrounded by forests and wildlife. Although this area is quiet and serene, there are a wide variety of activities in the area. Children of all ages enjoy the holiday train rides through Beavers Bend Depot and stables, with the majestic pine trees creating a serene holiday backdrop.
Although the weather is cold in southeastern Oklahoma this time of year, a variety of year-round outdoor activities include hiking, snowmobiling, and a variety of other outdoor activities. Those looking to enjoy indoor activities can explore a variety of area antique shops and other unique stores, where the perfect holiday gift is just waiting to be discovered. From organic bath products to make your own wine, there are a plethora of distinctive shops to be explored.
Broken Bow Cabins offers accommodations that fit any size party, from family reunions to intimate couples-only getaways. Many cabins can accommodate up to eight guests, which ensures that visitors will discover the perfect lodging for their needs. Many cabins offer private washer and dryers, and some also offer luxury amenities like fireplaces and hot tubs.
Visitors can enjoy the beautiful lodging and quintessential surroundings that can only be found at Broken Bow Cabins this holiday season. Ideal for any size group, this season is the perfect time to enjoy family and friends in a peaceful setting.
About Broken Bow Cabins:
Nestled in the Ouachita and Kiamichi Mountain Wilderness in southeastern Oklahoma, Broken Bow Cabins is the place to relax and unwind. Located only 3 hours from Dallas, these luxurious private cabins offer the chance to escape and enjoy the beauty of nature. Broken Bow Cabins offer lodging for any size party, with some cabins accommodating larger groups of more than 9 guests. Amenities abound at these private retreats, with many cabins offering fireplaces, hot tubs, and other comforts. We also offer many family-friendly activities such as hiking, kayaking, horseback riding, and more. When you choose to stay at Broken Bow Cabins, you are ensured a vacation for both the body and the mind.