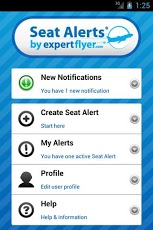 Whether it's from a hotel room or the back of a cab, our Seat Alerts app makes it convenient for travelers to secure a more desirable seat on their next flight
New York, NY (PRWEB) November 13, 2012
ExpertFlyer.com®, the premier air travel information tool offering complete and efficient ways to access the changing details of worldwide air travel information, announced today that Seat Alerts®, winner of Business Traveler's People's Choice Innovation of the Year award by GBTA, is now available as a free Android app on Google Play. Available as a free app for iOS devices since last August, the new Android app now allows anyone with a smartphone to create, manage, and secure better airline seats from anywhere in the world.
The new app allows travelers interested in changing their middle seat to a window or aisle seat to create, manage, and receive alerts and updates using their smartphone without the need to log onto ExpertFlyer's website. Travelers can also register for their free Seat Alerts account through Facebook, if they wish.
Available exclusively through ExpertFlyer, Seat Alerts will also allow travelers to set an alert on a flight that is completely booked and will alert them if a seat becomes available on that flight. ExpertFlyer's Seat Alerts feature currently monitors more than 130 airline carriers worldwide. Additional information and screen shots illustrating how the new Seat Alerts iOS app are available on ExpertFlyer's blog.
"Today's mobile consumer does not always have access to a computer to conduct extensive searches and other detailed research, but many do have immediate access to their smartphones and tablets," explains Chris Lopinto, President and Co-founder of ExpertFlyer. "Our Seat Alerts app completely removes the need to visit our website to set up a Seat Alert and allows travelers to create and manage their alerts from anywhere using their Android or iOS-based portable device. Whether it's from their hotel room or in the back of a cab on their way to the airport, the Seat Alerts app for Android or iOS devices make it even more convenient to secure a more desirable seat on your next flight."
How it Works
Today, securing seating assignments for flights requires passengers to have a ticket and restricts seat selection to only unoccupied seats. Passengers hoping to find a different seat would typically wait until check-in at the airport and hope a more desirable seat is available. ExpertFlyer's Seat Alerts changes all that.
Seat Alerts now allows ticketed and non-ticketed passengers to set up an automatic alert that notifies them if occupied seats become available. Using ExpertFlyer's free Seat Alerts app, passengers can select "Any Aisle", "Any Window", or "Any Seat" options and will be automatically notified if their desired seat becomes available on their flight, after which the passenger can change their seat assignment via their point of booking, such as the airline carrier's website.
Travelers can set a free Seat Alert in three easy steps.
1) Download the free app at Google Play
2) Look up the Seat Map of your specific flight
3) Set up a Seat Alert to find window seats, aisle seats, or other preferences
4) Receive notification via email or text if your preferred seat is found

With a Free account, travelers can set up one Seat Alert at a time using the "Any Seat," "Any Window" or "Any Aisle" options.
Seat Maps include SeatGuru® seat ratings so you know which seat is the right seat for you. Just click on a seat to see its rating and review.
If you need multiple Seat Alerts at once, additional alerts and alert options are available for purchase.
Seat Alerts supports over 130 airlines that have pre-assigned seating.
Seat Alerts will monitor the available seats right up until the flight departs. If it becomes available you can change your seat when your Seat Alert notification arrives, just contact the airline or the travel agency that booked your ticket. Seat Alerts finds a window or aisle seat better than 74% of the time.
In addition, Seat Alerts also works with ExpertFlyer.com Basic and Premium subscriptions.
About ExpertFlyer.com
ExpertFlyer.com was conceived and created by an eclectic team consisting of a veteran elite tier frequent flyer, an airline captain and corporate travel manager, and information technology professionals to deliver a 24/7 real time powerful air travel information service. The company provides its subscribers and corporate travel managers alike with a complete, concise and efficient way to access the ever-changing details of worldwide air travel information. For more information, please visit http://www.expertflyer.com. Seat Alerts is a registered service mark of Expert Travel Services LLC.
# # #